New Car Rental Service Comes to S.D.
Wednesday, April 4, 2018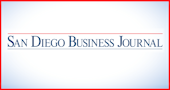 Rental car service Silvercar expanded its service to San Diego April 2. Acquired by Audi in 2017, Silvercar's fleet consists entirely of Audi A4s and Q5s.
Travelers are able to pick up and drop off Silvercar rentals near San Diego International Airport at 2548 Kettner Blvd. Consumers reserve and unlock a Silvercar car at the pickup location via the company's app.
"We're experiencing the fastest growth in company history and redefining the future of mobility," Silvercar COO, Chris Donus said in a statement. "Silvercar is a perfect match for San Diego, with year-round sunshine surrounded by beaches, desert, and mountains."
Silvercar has 20 locations across the U.S. San Diego, Los Angeles, and San Francisco are the company's three California locations.
Audi A4s rentals are $59 per day and Q5s are $69 per day.