BUILD: BUILDINGS AIM FOR PERFORMANCE-BASED RANKING
College Construction Is Lesson in Sustainability
Sunday, April 1, 2018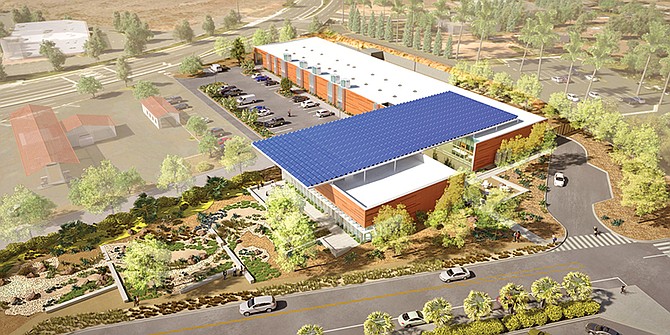 San Diego — When Palomar College set out to replace eight small maintenance and operations buildings scattered around campus, school officials said they wanted something that would stand out as a model of energy and water conservation and meet other measurements of sustainability.
"We wanted to try to set an example," said Dennis Astl, college manager of construction and facilities planning. "We didn't say we wanted anything in particular, we just said we wanted a very sustainable, low operating cost building."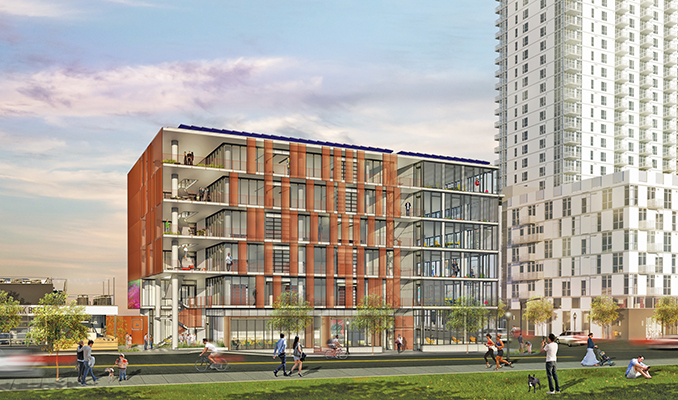 The $13 million two-building complex — BNIM architects designed and Level 10 Construction is building — aims to meet some of the stiffest sustainability standards in the construction industry.
"They really challenged us to come back with some unique ideas," said Matthew Porreca, principal and director of BNIM.
Porreca said the result is that the 30,000 square-foot complex will achieve LEED (U.S. Green Building Council Leadership in Energy and Environmental Design) Platinum certification and the even more stringent Living Building Petal certification set by the International Living Future Institute based in Seattle.
26 Buildings Certified, So Far
Palomar would be the first community college in the world to gain Living Building Petal certification, said Megan Ritchie Saffitz, certification director of the Living Future Institute.
So far, only 26 buildings worldwide have gained Petal certification.
To meet LEED standards, a builder must show that he is taking certain steps to meet energy and water conservation goals.
To become Living Building Petal certified, a building must operate within strict conservation guidelines for a full-year after construction is finished.
Performance Based Rankings
"This certification is based on performance," Saffitz said, as opposed to saying top of the line material was used in its construction.
Among other things, the Palomar College complex will produce more energy than it uses and collect rainwater to irrigate the surrounding landscape.
A rooftop solar array of more than 300 panels will generate electricity for the building and help shade the interior.
Five, 28-foot-tall thermal chimneys will provide cooling by circulating air through the interior. The thermal chimneys also will help provide heating during cold spells.
Louvers that can open at night and close during the day also will help with cooling, and computer-controlled windows can open and close, depending on the temperature outdoors.
Vertical and horizontal aluminum sunshades on the exterior will minimize solar heat gain and reflect light inside to help with the natural lighting.

"There will be some days you'll have to turn on the air conditioning," Porreca said. "Right now, it's predicted to be about 15 percent (of the time)."
Solar tube skylights will provide enough natural lighting to light the interior during daytime.
Other features allow for less space to be used in the warehouse portion of the project, Astl said.
For example, Astl said that rather than static shelving, the warehouse will have a movable racking system, so less space is used for aisles between the racks.
Shrinking Size, Increasing Capacity
"We're actually shrinking the size of the warehouse and doubling the capacity," Astl said.
Complementing the design of the building, landscaping will use drought-tolerant native plants.
The plants will be labeled, to indicate which species are threatened or endangered and which are not.
Porreca said many of the sustainability features in the Palomar College building also have been incorporated in the construction of Makers Block D, also designed by BNIM and developed by Lankford & Associates in partnership with Hensel Phelps and HP Investors.
Due for completion in June, the six-story building in downtown San Diego's East Village will have 44,390 square feet of office space on the top five floors and 8,935 square feet of retail space on the bottom floor.
"We're pretty excited about it, as are our tenants," said Rob Lankford, CEO of Lankford & Associates.
The Makers Block D building is designed to achieve LEED Platinum certification, but not Living Building Petal certification.
As such, it will be net zero energy, meaning it's designed to produce all of its own energy for the office space through rooftop solar panels.
Unless someone uses an unusually large amount of electricity, "A typical office user could have a zero electric bill," Porreca said.
The building uses cross ventilation for cooling with motorized blinds on the southwest corner that tilt automatically with the rotation of the sun.
Tenants also can open and close the blinds as they like, and the windows can be opened to let in fresh air.
Ocean Breezes
"The wind patterns that come from the ocean are very soothing," Lankford said. "You don't have to turn on the air conditioning."
Stairways and corridors will be on the exterior of the building, reducing the need for artificial lighting and air conditioning.
The idea is to rely on natural lighting and natural cooling as much as possible.
"It's really to feel that you're working outdoors as much as possible," Porreca said.