S.D. County's Construction Starts Dropped 14% in First 8 Months of 2017
Thursday, September 28, 2017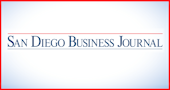 San Diego County's construction starts declined 14 percent from a year ago in the first eight months of 2017, with new projects valued at approximately $2.83 billion, according to the latest monthly figures Dodge Data & Analytics.

Based on the value of building permits pulled during the January-to-August period, the research firm said non-residential projects totaled $1.47 billion, down 9 percent from the same period of 2016. Residential projects totaled $1.36 billion, representing a 19 percent decline.
Non-residential projects include office, industrial, retail, hotel, education, government and other types of non-housing construction. The residential category includes single-family and multi-family housing.
The year-over-year change for overall projects during the month of August was essentially zero. New projects totaled $635.8 million for the month, down slightly from $637.6 million for August 2016.
During August, non-residential projects rose 57 percent in value from a year ago, topping $535.6 million. But that growth was counterbalanced by a 66 percent drop in residential projects, to $100.1 million.