Driverless Cars Put Big Change in the Fast Lane
Originally published September 28, 2017 at 2:48 p.m., updated September 28, 2017 at 2:48 p.m.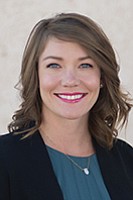 San Diego — I will never forget the first time I saw a self-driving car: I was on my way to O'Hare International Airport in Chicago and glanced at the car next to me. It was moving along with the flow of traffic, but the man in the driver's seat had his eyes closed and head tilted back. He appeared to be sleeping.
I watched as a large tractor-trailer pulled into his lane and braced myself to witness a serious collision. Instead, the Tesla braked — on its own — to let the trailer merge, then reaccelerated to continue its journey.
Some experts and research analysts predict autonomous vehicles will take over personal transportation by 2030, but the reality is they are here now, changing the way many industries do business.
Insurance Impact
Consider: The Department of Transportation estimates automated vehicle systems will prevent 76 percent of accidents. Most agree that if self-driving cars reduce the number of collisions, insurance risk premiums should also decrease. Given auto insurance accounts for 42 percent of property and casualty insurance — a $200 billion market in the U.S. — can the insurance industry afford to take the hit?
Personal lines insurers need to take a step back, look at the big picture and re-evaluate their current books of business. Many will need to expand their client base and prepare for the transition sooner rather than later. High-net-worth personal lines insurers may be at the forefront of the autonomous vehicle insurance market.
Even the 55-plus crowd, which is sometimes slower to embrace new technologies (smartphones, social media and streaming services, for example) are showing significant interest in autonomous vehicles and the safety features they offer.
If personal automobile insurers do not start planning for the shift now, their future sustainability may be in jeopardy.
Legal Complications
Even with the reduction in the number of accidents on the road, autonomous vehicles will change America's legal system as we know it. Between new national and state regulations and anticipated litigation stemming from these accidents, personal injury and liability trials will initially become more complicated, expensive and time consuming.
While I believe our current tort system is set up to handle the coming changes, there is currently not enough case law to perfectly pave the road ahead. Courts must individually assess each case, examining whether the manufacturer, programmer or "driver" were at fault.
Our already backlogged court system has a lot of work to do to be able to handle more complicated litigation, and attorneys from both sides of the bar will need to stay informed on the latest rulings and regulations in order to effectively represent their clients.
Changes are coming to the commercial transportation and cybersecurity industries as well. The future is filled with self-driving commercial fleets that distribute goods across the country. In addition to the companies who own the fleets, those who maintain and service the autonomous vehicle technology will be called upon when litigation hits.
To add even more complexity, consider the security risk of a hacked autonomous vehicle's computer and data systems. As new markets emerge in this cybersecurity arena, those responsible for monitoring and protecting against breaches may be held just as liable in the eyes of the law as the vehicle drivers and creators.
Steering into the Future
Despite enhanced safety and reduction in accidents autonomous cars will provide, they will inevitably still cause damage, injuries and take lives — especially in their infancy. Research, preparation and creativity are paramount to surviving and thriving this new technology. To keep up, companies should start planning and re-evaluating now, before future industry changes speed by and leave them fading from sight in the rearview mirror.
Cayce Greiner is partner of client relations for San Diego-based Tyson & Mendes LLP and leads its autonomous vehicle specialty practice.