Kyriba Corp. Receives $45 Million Investment
Wednesday, September 27, 2017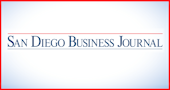 Kyriba Corp. said on Sept. 27 that it received a $45 million strategic investment led by Sumeru Equity Partners.
As part of the investment, SEP managing partner Kyle Ryland will join Kyriba's board of directors.
Kyriba is based in New York and retains an office in San Diego. Also participating in the round were existing investors Bpifrance, Iris Capital, Daher Capital and HSBC (NYSE: HSBC).
Kyriba offers financial software under the software-as-a-service model. It describes its products as cloud treasury and financial management solutions.
"SEP's expertise in fast-growth SaaS solution providers, and their impressive track record for investing in successful technology market leaders, makes them the perfect strategic partner for Kyriba," Jean-Luc Robert, Kyriba's chairman and CEO, said in a prepared statement.