ViaSat, Boeing Begin Construction of 2 New Satellites
Tuesday, September 26, 2017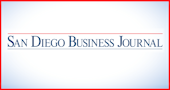 Carlsbad-based ViaSat Inc. said early this week that it and partner Boeing Co. have begun construction of two of the ViaSat-3 class satellites.
ViaSat (Nasdaq: VSAT) plans to place the first of its ViaSat-3 satellites in orbit over the Americas and the second over Europe, the Middle East and Africa.
The satellites will be based on the model 702 electric-propulsion satellite platform from Boeing (NYSE: BA). ViaSat is building the satellite payloads in Tempe, Arizona while Boeing is building the bus structures, or chassis, in El Segundo.
Each ViaSat-3 class satellite is expected to deliver more than 1 terabit per second of network capacity, ViaSat said in a statement. A terabit is 1 trillion bits. One terabit per second is about 1,000 times faster than state-of-the-art cellphone modems.
ViaSat added that each ViaSat-3 satellite will be highly flexible and able to dynamically direct capacity to where customers are located.
ViaSat plans to launch a third ViaSat-3 class satellite to provide service to Asia.
In other news, ViaSat said that its ViaSat-2 satellite — launched on June 1 — is getting into position at 69.9 degrees west longitude. The satellite will serve most of North America, Central America, a small portion of South America and a northern portion of the Atlantic Ocean. The company expects to start offering service on the satellite in early 2018.