Strong Summer Boosts San Diego Hotel Metrics For 2017
Thursday, September 21, 2017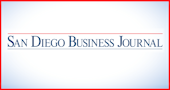 The San Diego region's hotels continued to demonstrate post-recession resilience in the first eight months of 2017, as the latest monthly data from STR showed total revenue topping $1.97 billion – up 6.4 percent from the same year-ago period.

The research firm reported that hotel occupancy was 79.8 percent for the January-to-August period – up 1.1 percent -- after the region's peak summer months posted numbers that were even higher: 85 percent in June, 88.8 percent in July and 82.8 percent in August.
The August occupancy rate was down 0.5 percent from August 2016. However, hotels for the month still saw the average daily room rate rise 3.5 percent, to $174.73; and revenue per available room (RevPAR) rise 2.9 percent, to $144.66.
San Diego regional hotel metrics have generally been on the upswing for the past six years, after the Great Recession spurred a nationwide plunge in hotel stays during 2009 and 2010. Barring an unforeseen jolt to the economy in the final four months, local hotels appear on track to register a seventh consecutive year of post-recession improvement on most metrics.
For the first eight months of 2017, the average daily rate in San Diego County was $165.73 (up 4.1 percent from a year ago), and RevPAR was $132.32 (up 5.3 percent).
Total room-night supply for the January-to-August period was approximately 14.9 million (up 1 percent), while room-night demand (nights booked) topped 11.9 million (up 2.2 percent).
STR reported that the U.S. hotel occupancy rate was 67.1 percent for the first eight months of 2017 (up 0.5 percent), as total revenue rose 4.5 percent, topping $105.6 billion. San Diego remains among the nation's top 25 hotel markets, with local growth rates generally outpacing national figures on most metrics.