S.D. and Baja Delegation to Promote Business Priorities in D.C.
Originally published September 21, 2017 at 4:44 p.m., updated September 21, 2017 at 4:45 p.m.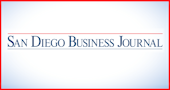 A binational delegation of 160 San Diego and Baja California business leaders, community partners and elected officials, including six mayors, will travel to the nation's capital to advocate for cross-border priorities such as trade and immigration.
The trip, from Sept. 24 to Sept. 27, is led by the San Diego Regional Chamber of Commerce, which stated that this is the largest delegation yet in 11 years of the Annual Mission to Washington, D.C.
"Much of what's on the national agenda – from immigration and trade policies to research funding and healthcare – has a direct impact on San Diego," Jerry Sanders, chamber president and CEO, said in a news release. "It is important our leaders at the national level hear directly from the business community on the issues that matter and how the policies they are crafting affect our unique business landscape."
Delegates will meet with federal leaders, agency officials and policy influencers regarding cross-border matters such as the North American Free Trade Agreement, or NAFTA. The chamber has supported NAFTA in recent months, stating it should be modernized.
President Donald Trump advocated scrapping NAFTA during the campaign. In March his administration formally launched a renegotiation of the 23-year-old trade deal.
The six mayors attending:
• San Diego Mayor Kevin Faulconer
• Tijuana Mayor Juan Manuel Gastélum
• Imperial Beach Mayor Serge Dedina
• Mexicali Mayor Gustavo Sanchez
• Nogales Mayor David Galindo
• Rosarito Mayor Mirna Rincon Vargas