What's Behind Recent Leadership Changes at Law Firms
Monday, September 18, 2017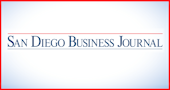 This year has brought a sea change in leadership at some of the most active law firms in San Diego.
The latest to announce a leadership transition was Procopio, the city's largest locally headquartered firm. The partners there recently elected partner John Alessio to take over for managing partner Tom Turner, who has been in the role for 17 years. Alessio will take on the top spot Jan. 1.
Earlier this year the longtime managing partner at Higgs Fletcher & Mack, the oldest operating law firm in San Diego County, also decided to step down from that role this year.
After 20 years of leading the firm John Morrell left the firm in May.
Morrell is now president of San Diego's Douglas Wilson Cos.
Turner has said he plans to remain at Procopio and return to a role he held previously leading the firm's Real Estate and Environmental Team.
Also in May, Kurt Kicklighter left his role as head of the San Diego office of international law firm Dentons, which had acquired McKenna Long & Aldridge, where Kicklighter had been a partner, in 2015. That tie-up followed McKenna's 2012 combination with longtime San Diego law firm Luce Forward, where Kicklighter also served for a time as managing partner. Kicklighter is now a partner at Del Mar firm Breakwater Law Group.
And, in February, Eddie Wang Rodriguez, managing partner at the San Diego office of Boston-based firm Mintz Levin, left the office he and others had founded in 2006 to join the local office of Atlanta-based firm Troutman Sanders as a partner.
Loren Freestone, president of the San Diego County Bar Association and a partner at Higgs Fletcher, said the rash of leadership changes these year appear coincidental – and may prove beneficial to the firms.
"There's no doubt that law firms need to evolve and change in order to survive," he said. "Oftentimes change is good. … There always becomes a time where (a change in leadership) should occur."