Eastridge Workforce Solutions Acquires Operon Resource Management
Thursday, September 14, 2017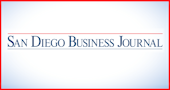 San Diego staffing company Eastridge Workforce Solutions has acquired Operon Resource Management, which provides staffing solutions for health care product manufactures.
Eastridge, which has 10 specialty recruitment divisions, said the deal strengthens its commitment to the medical device sector.
"Both companies' clients will be able to receive more integrated solutions and simplify their talent acquisition and management process," Seth Stein, Eastridge's president of workforce recruitment, said in a news release.
Stein will be responsible for the ongoing integration and management of Operon, which is headquartered in Lowell, Massachusetts. With the acquisition, Operon is now an Eastridge Workforce Solutions company.
Eastridge is ranked in the top 1 percent of staffing firms nationwide by Staffing Industry Analysts.
Terms of the deal, announced Sept. 14, were not disclosed.