Two Businessmen Offer $1.5M to Fund Putting Up Temporary Shelters for Homeless
Wednesday, September 13, 2017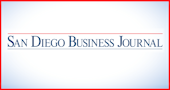 East Village and the Midway District will be the sites for as many as three "bridge" shelters for San Diego's homeless residents, put up with financial help from a local business partnership.
Mayor Kevin Faulconer announced the sites on Sept. 13. At least one of the shelters could be open by the end of December, the Mayor's Office said.
The sites are:
• 14th Street and Commercial Street, in a parking lot on the Father Joe's Villages campus.
• 16th Street and Newton Avenue, on a vacated section of street. Alpha Project will operate the shelter.
• The 2700 block of Sports Arena Boulevard, in a vacant lot behind the Goodwill Store. Veterans Village will operate the shelter.
Two businessmen — Dan Shea and Peter Seidler — have offered $1.5 million to buy and put up temporary industrial buildings which will serve as living spaces. The large buildings from Sprung Instant Structures Ltd. are essentially tents, with heavyweight fabric covering a load-bearing frame.
Each shelter will have more than 100 beds with restrooms, showers, meals, 24-hour security and support services.
The facilities are seen as temporary shelters for a population that has been living on San Diego's sidewalks. The thought is they will serve until more permanent housing is built.
The city is exploring adding more bridge shelters in the future at other locations, Faulconer's office said.
Shea is a partner in Paradigm Investment Group LLC and owner of the Donovan's steakhouse chain. Seidler is managing partner of the San Diego Padres and a partner in Seidler Equity Partners.
A hepatitis A outbreak among San Diego's homeless population and drug users has killed 16 people since March and put 292 people in the hospital, the county said Sept. 12. It has prompted the county to deploy 40 hand-washing stations and City Hall to begin a program of disinfecting sidewalks.