Once Upon a Farm Names New Chief Executive
Tuesday, September 12, 2017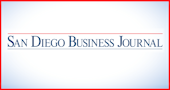 John Foraker, the former head of organic food brand Annie's, has joined local baby food startup Once Upon a Farm as its chief executive.
Foraker led Annie's for 17 years, including his latest stint as president of the business following its 2014 acquisition by Golden Valley-based General Mills for $820 million. He was an early investor in Once Upon a Farm.
The company also said actress Jennifer Garner has joined Once Upon a Farm as its chief brand officer.
San Diego's Once Upon a Farm, started in 2015 by Cassandra Curtis and Ari Raz, sells a line of cold-pressed organic baby foods and applesauce. The shelf life of the company's products is extended through a technique called high pressure processing (HPP), which uses pressure rather than heat.
Products are sold through the company's website and at grocery stores, including some Wegmens, Kroger and Whole Foods Market stores.
In Monday's announcement about the additions to the company's executive team, Once Upon a Farm also revealed plans to expand into new product categories and expand distribution nationwide in 2018.