American Specialty Health Files Trademark Lawsuit
Tuesday, September 12, 2017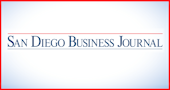 American Specialty Health, which has two offices in San Diego, announced Sept. 11 that it filed a trademark counterfeiting and infringement lawsuit against Modesto-based American Specialty Healthcare and American Specialty College, along with a number of its executives.
The lawsuit seeks to stop the defendants from using the "American Specialty Healthcare" and "American Specialty College" name and trademarks, as well as damages and attorneys' fees.
"American Specialty Health's trademark registration is more than ten years old and incontestable," said the attorney John Dabney of McDermott Will & Emery LLP, in a statement. "The company has spent millions of dollars building brand awareness for its nationally recognized health services under the name American Specialty Health."
American Specialty Health moved its headquarters from San Diego to Indiana in 2014, but still has an office in El Cajon and the city of San Diego. Inc. 5000 has included the company on its fastest growing list eight of the last nine years.