New Board Members, Chair Appointed at San Diego Workforce Partnership
Monday, September 11, 2017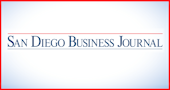 The San Diego Workforce Partnership, which funds job training programs, has appointed five new members to its Workforce Development Board and announced a new chair.
Phil Blair, executive officer of Manpower Staffing/San Diego, which provides job coaching services, will serve a two-year term as chair.
"I am looking forward to working with staff and my fellow board members to tackle a number of priorities, including how we can reconnect opportunity youth to school and work, expand job training programs within San Diego County's jails, and develop a five-year strategic plan that embraces the new technology and training choices job seekers have now and will have in the future," Blair said.
The new members:
• Mary Burton, vice president of human resources, SeaWorld San Diego;
• Dennis DuBard, manager, public and government relations, General Dynamics, NASSCO;
• Shandon Harbour, president and CEO, Associated Builders and Contractors;
• Sandra Shuda, vice president of strategy and services, Watkins Wellness; and
• Mark Starr, director, Microsoft