PROPERTY: MANAGEMENT PLATFORM AIMING FOR SITES OF 50, OR LESS, UNITS
S.D. Acquisition Puts Mynd in Target Rich Rental Market
Originally published September 8, 2017 at 9:36 a.m., updated September 8, 2017 at 9:36 a.m.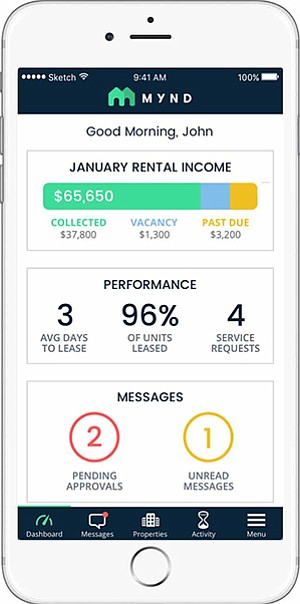 San Diego — Responding to the rise of mobile apps in the realm of rental property management, Bay Area technology provider Mynd recently made its first expansion into Southern California by acquiring San Diego's Pacific Shore Management for an undisclosed price.
Aided by three prominent Silicon Valley venture capital firms, which have helped it raise more than $10 million in financing since last October, Oakland-based Mynd is seeking to serve what it contends has been an underserved market — owners of apartment rental properties with 50 or fewer units.
In a recent phone interview, Mynd co-founder Doug Brien said those owners frequently don't have full-time internal staffs that help them manage on-site operations — such as handling tenant service requests, tracking work orders and accepting online rent payments — let alone gauge the financial performance of their properties in real time.
Brien said he and fellow co-founder Colin Wiel, both real estate industry veterans, garnered several insights from a prior startup in the Bay Area — the single-family rental home-focused Waypoint Homes, founded in 2011, from which the pair sold off most of their interests last year to an entity now known as Colony Starwood Homes.
One lesson learned from that earlier venture is that smaller mom-and-pop owners of rental properties have few ways to manage portfolios that could span dozens of properties, scattered hundreds of miles apart. A large portion of Mynd's current customers own portfolios of multifamily properties that each have 20 or fewer units.
Delivering Efficiencies
Brien and Wiel engineered a suite of mobile apps, also accessible via a web portal, to give those smaller owners the same types of efficiencies and access to data that their much larger counterparts get via internal staff or by hiring third-party management companies.
"It helps the operators become more efficient, and it makes the communication process between the tenants and the owners much more transparent," Brien said. "You have a running trail of correspondence, which makes sure all sides are on the same page."
Brien said the full-service management platform is accessible free for use by tenants and property management personnel.
Mynd garners management fees from property owners that are based on the number of units in the property, collecting a portion of gross rental revenue plus a one-time fee to onboard a new property or new leases onto the platform.
The privately held company is about one year old and has not reported revenue, but contends its overall fees are lower than what a property owner would pay for similar services provided by a third-party management firm.
$5.1M in Series A1
Silicon Valley players are among those convinced of the business model's promise. Most recently, in March, Mynd reported that it raised $5.1 million in Series A1 financing led by Jackson Square Ventures, with participation from Canaan Partners, Lightspeed Venture Partners and strategic angel investors. That followed a $5.5 million Series A financing round led by Canaan Partners in October 2016.
The investments are emblematic of a nationwide tech acceleration impacting the acquisition and management of commercial and residential real estate portfolios.
According to the technology business research firm CB Insights, there are now more than 100 U.S. companies involved in some type of software or other technology geared to commercial and residential real estate, for functions such as property management, financing and analyzing potential acquisitions.
Through early June, CB Insights reported, U.S. backers year to date had invested $1.46 billion across 107 deals in the real estate tech arena. At the current run rate, total investments for 2017 are expected to reach $3.4 billion — which would be a 25 percent increase over 2016.
Other SoCal Options
After expanding last year from its East Bay home base into the South Bay, San Francisco, Marin County and San Jose markets, Brien said Mynd will be scouting further opportunities to expand the platform's reach. After San Diego, there could be other potential Southern California acquisitions in places such as Los Angeles and Orange counties.
Mission Valley-based Pacific Shore Management was founded in its current form in 2013 and currently employs 15, including several veterans of the multifamily property industry. The combined firms will have about 60 people involved in operations of the Mynd platform in the San Diego region, Brien said.
Pacific Shore Management CEO and founder Krystle Moore said that name will likely stay in place for the coming months, while the two firms' operations are being integrated. The deal with Mynd did not include other divisions of Moore's local operations, such as Pacific Shore Capital, which handles financing related to multifamily and other commercial property deals and will remain a separate entity.
Property Management Needs
Moore said her firm's goals were aligned with those of the Mynd team. She has long felt that technology was underutilized in the world of property management, particularly in a market like San Diego.
The local market, she said, has a large number of apartment properties that are smaller in size — less than 50 units — but becoming increasingly valuable in the current investor-slanted market where supply is low relative to rising demand for apartments.
Those owners of smaller properties, until recently, have had few tech-oriented options to help them operate their portfolios in an efficient manner. For instance, Moore said, the filing of a tenant service request might otherwise require multiple trips to a property, to check out what parts or services might be needed address the situation, plus numerous follow-ups with vendors to ensure the work was carried out.
The upshot of management technology is saving owners money and other resources they could be investing in other ways, and Moore said real-time access to revenue and other property performance data is relatively new for owners of smaller properties.
"A lot of this is just about the better use of time," Moore said.