Microlender Accion to Receive $300,000 From Wells Fargo
Friday, September 8, 2017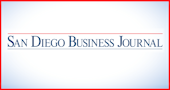 San Diego-based microlender Accion will receive $300,000 from Wells Fargo & Co. as part of the bank's Diverse Community Capital program, the bank announced this week.
The local nonprofit is one of 14 organizations nationwide to receive funds in the third round of the bank's six-round program, which aims to support small businesses.
Funds will help Accion provide flexible capital and technical assistance to minority-owned small businesses.
"We are grateful to have been awarded the DCC grant from Wells Fargo as it allows us to expand our loan program to support an even greater amount of minority-owned businesses in all counties we serve: Imperial, Riverside, San Bernardino and San Diego," Accion CEO Elizabeth Schott said.
Since the program launched in 2015 Well Fargo said it has distributed more than $46.5 million to 44 community development financial institutions. Through the program, Wells Fargo has said it will distribute $75 million over three years.
In Southern California, Accion provides loans from $300 to $75,000. It has provided nearly 4,000 such loans totaling more than $30 million since it launched 22 years ago. Accion is part of a nationwide network of lenders which have lent more than $500 million to about 59,000 businesses. Learn more at accion.org.