Co.'s Fluid Conversation Makes for More Meaningful Market Research
Originally published September 8, 2017 at 9:51 a.m., updated September 8, 2017 at 9:51 a.m.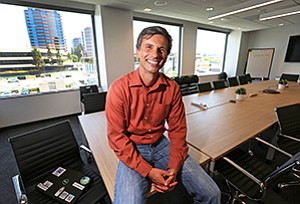 San Diego — For a guy in the market research business, Rasto Ivanic has an unusual disdain for consumer surveys. Even the word "survey" makes him cringe.
"I banned the word in our office," Ivanic said, laughing.
Ivanic is the president and CEO at GroupSolver, a local company that makes software for companies doing market research (you know, those people who write and deliver surveys).
The problem with surveys, Ivanic said, is that they're almost always designed with multiple choice questions, which inherently leads the consumer toward a response.
GroupSolver, a former EvoNexus incubator company, is trashing that model. Instead of designing multiple choice surveys, the company designed a questionnaire technology that can understand 'plain language' responses. With GroupSovler's technology, the person taking the survey is engaged in a chat session with an artificially intelligent bot. The bot asks the consumer questions, and lets the consumer type out a response. Based on the consumer's answers, the survey changes, learns, and adapts. This approach allows GroupSolver to suss out more meaningful insights from consumers, Ivanic said.
"You can think of us as Survey Monkey, but with a human brain," Ivanic said.
$700,000 Seed Money
The startup just raised $700,000 in seed money that came, in part, from Tech Coast Angels investor Dean Rosenberg. Rosenberg believes that GroupSolver is onto something valuable, which could be disruptive to the market research industry.
Rosenberg said he was most impressed with GroupSolver's existing list of customers.
"They had a solid sales leader and sales process that was producing results," Rosenberg said. "This is rare for seed-stage deals. When we funded the company, they had over 50 paying customers including some very large consumer brands. Over half of their customers were repeat buyers."
Ivanic said the company's paying clients include Sony Pictures, Caribou Coffee, and Jack in the Box. GroupSolver's revenue has more than doubled in one year. Back in 2016, the company brought in $300,000 in revenue. Ivanic said GroupSolver had already brought in nearly $600,000 at the end of this August, meaning the company is on track to possibly reach over $1 million in revenue this year.
Faster and Cheaper
The company's product is appealing to customers in more ways than one. Not only are the insights from GroupSolver's surveys potentially more meaningful, but they're also delivered faster. Oh, and they're also cheap.
Traditional market research projects can cost companies hundreds of thousands of dollars, and easily into the millions for more difficult surveys. It also can take months for market research companies to deliver the results.
Ivanic said GroupSolver is an easy sell in comparison.
"We can do it automatically, without an army of analysts and in a fraction of the time for 10 percent of the cost," Ivanic said. "And we're still making stupid money on it."
Ivanic said it will be tough to take on the giants of the market research world, but he's confident that the startup has a competitive edge.
"We are a tiny flea on an elephant's butt, but we've already tapped the vein," Ivanic said. "We're going to get bigger.
GroupSolver employs about 30 people, although the vast majority of its employees work in the development office in Europe. But Ivanic said the company is growing its local presence after the new financing round, and expects to bring on about seven R&D employees in San Diego by January.