COMMERCIAL: ARTISTS MUST USE CREATIVITY FOR PRICING
The Sale of the Art
Originally published October 26, 2017 at midnight, updated October 27, 2017 at midnight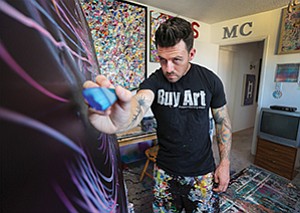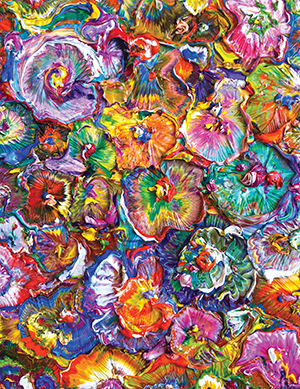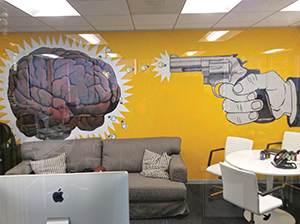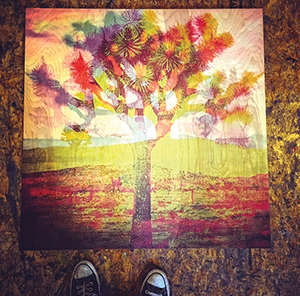 San Diego — Michael Carini prides himself on his brush stroke, along with his business acumen.
One area where his and the services of other San Diego artists are in demand: commercial buildings — and not just hip tech start-ups and restaurants. Some businesses say art work helps to establish the vibe for the office culture.
While their work is sought-after, for Carini and other self-represented painters, navigating the business side of the industry is an art itself. The challenges are many, from pricing works in a highly subjective field to locking down sales outside of brick-and-mortar galleries, which take a large cut.
Carini counts marketing classes and a stint as a salesman as part of his arts skillset. He delivers pricing structures that suit various budgets and clients — commercial buildings, private collectors and museums. And he leads lectures on the business of art at his alma mater, Loyola Marymount University.
"I tell students you have to be hungry. Talent isn't enough. You have to put in time and effort, and have some financial know-how, which takes creativity, too," said Carini.
Carini recalled adorning the walls of a Kearny Mesa financial firm with a mural and 50 custom reproductions, though initially company executives thought his abstract style, dubbed acrylic alchemy, was too out there.
He convinced them it would drop clients' guard, which they ultimately found to be true. And he appealed to their financial backgrounds: paintings appreciate in value.
Among artists, commercial spaces mean a nice paycheck, as well as the chance to paint grand pieces in areas with heavy foot traffic. But does it come at the price of compromising artistic integrity?

"Although I very much target this demographic, I'm definitely not a sellout. My philosophy is I have my way of working, and you tell me what you're looking for, and I find a happy medium or solution that works with allowing me to maintain my integrity," said Carini.
Whether office space, private collections or galleries, artists wrestle with putting an appropriate price on their works.
"One of the interesting things about art, unlike many other services and businesses, is that it really varies and is all over the map," Carini said. "Whereas some artists will do it for free, other artists have extremely high price tags."
An artist's reputation can largely dictate the sticker price. But there's more to it than that.
Carini, whose originals range from $1,000 to $65,000, takes into account the piece's size, the collection it's from and visibility. For instance, he knows his pieces that appear in Architectural Digest will fetch more.
His creativity extends to financing, including offering payment plans, leasing and discounted bundles – and he'll throw in live-painting to sweeten a deal.
For artists, cash deals aren't always the best way to go, most famously demonstrated by graffiti artist David Choe. In 2005, Choe chose stock over cash when he spray-painted the first Facebook office. Two years ago he estimated his shares are worth $500 million.
Neil Shigley, an arts professor at San Diego State University, advises students selling works to consult resources like the Graphic Artist's Guild Handbook of Pricing and Ethical Guidelines as a jumping off point.

"It's tricky; your art is worth more than you think, but you don't want to lose the sale," said Shigley, a fine arts painter and printmaker.
His work can be seen in fine art galleries and at San Diego offices like ad-sales firm AdBoom. For office murals, Shigley charges on a sliding scale, but generally around $30 per square foot plus $100 an hour.
"I've noticed more demand in offices. At first it was savvy young people looking to create a cool environment for employees. Then others said, 'The big tech companies are doing it, why not me?' " Shigley said.
AdBoom president Beau Hale said Shigley's murals established the tone of the office culture and made the office more productive.

"You can't expect to get work out of your staff if you don't curate a space that they first enjoy being at," Hale said in an email.
Many artists are self-represented and sell directly to the public so that they keep 100 percent of the profit, as opposed to a gallery keeping a big chunk. Yet these artists risk spending a lot of time on matters like packaging and sales.
"It's so easy to get caught up in the business part of it," said graphic designer and illustrator Jere Dean, adding he made that mistake early on when he inked too many deals in a short span, sapping his creative energy.
In response, Dean decided to spend his time on fewer projects, which paradoxically, turned out to be a good business move. Although he doesn't sell as much artwork these days, the pieces earn a higher value.
"I make more money doing it the way I do now," Dean said with a laugh. "I have time to clear my head, I can get away and focus on my art."
Self-represented artists typically rely on online sales, which was a no-go for Kevin Winger, whose textural oil paintings make more sense in person. So he opened his own space to house his works, Mod-Est Studio Gallery in Liberty Station.

His art isn't at other San Diego galleries, given that most have competition clauses so that an artist's pieces aren't priced at varying levels.

"If you have your own gallery, you're viewed as being in direct competition," Winger said. "Artists getting going might not realize this."

Winger doesn't consider himself a salesman, particularly given that it's rare to see impulse buys in fine art. Rather, he likened the process to an elaborate courtship.
"People like to meet you two or three times. They want you to deliver the art and install it. They want to see the piece in different lighting. They want more insight into your process," Winger said.