Contractor Finds Sweet Spot As Bigger Fish in Small Pond
Originally published October 26, 2017 at midnight, updated October 27, 2017 at 6 a.m.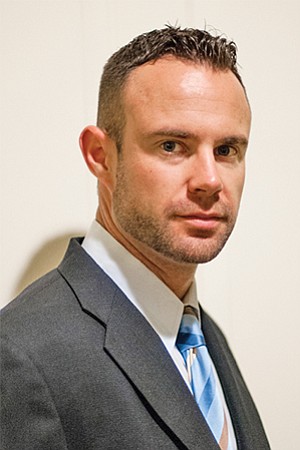 San Diego — Indus Technology Inc. has a new owner.
Jim Lasswell has handed the reins to Eric MacGregor, an 11-year employee and a U.S. Air Force veteran. MacGregor, who now owns 51 percent of the company, says he's excited, motivated, and on a personal note, a little short on sleep.
Financial terms of the sale were not disclosed. As part of the transaction, MacGregor took on a 10-year note.
Indus specializes in U.S. Navy contracts. It has 209 employees and revenues in the $35 million range (it's still a small business in the Pentagon's eyes). Staff at its main office in Old Town San Diego oversees more than a dozen branch offices, from Rhode Island in the east to Hawaii in the west, plus Japan. The business offers systems engineering, technical and program management services.
One key to bringing in contracts is Indus' status as an SDVOSB — that's short for service-disabled veteran owned small business.
The armed forces set aside certain contracts for such entities. Large corporations can then pair up with the small businesses to get pieces of the work. Indus will be able to keep its special status since MacGregor is service disabled.
Indus would not have been able to keep such contracts if it became part of a bigger company. That's OK with Lasswell. He said the idea of redundant employees being laid off under a merger was unappetizing.
Lasswell, 76, will stay on as an adviser under a one-year contract.
Life is a lot better as a larger small business than it is as a smaller large business, the two executives said. For a brief while in 2010, Indus edged over the line that separates small and large businesses. It became a competitor rather than a collaborator to its larger peers.
The phone stopped ringing, MacGregor said. "We were a nuisance."
"That's when the lipstick came off the pig," said Lasswell, who is a little more prone to self-deprecating statements than the new CEO.
In 2010, Indus put 30 percent of the company into an employee stock ownership program. As part of September's transaction, employees took on more company stock.
Four attorneys took part in the changeover: one each representing Lasswell, MacGregor, the employee ownership group and one representing the company itself.
"You take your standard bill rate and multiply it by four," Lasswell said with a grin. He said he and MacGregor were more inclined to come to an agreement than the four attorneys, and if there was a sticking point, he could walk 8 feet across the hall to talk it over with MacGregor.
MacGregor's previous job at Indus was senior vice president. In the Air Force he took part in Operation Enduring Freedom and Operation Iraqi Freedom.
Looking forward, MacGregor said he wants to widen the company's clientele. The Navy is a great customer, but he'd like to do more work with other federal clients.
It will take a rock climber's skill to deftly negotiate the future. Lasswell and MacGregor said they probably have only a few more years left as a small business. MacGregor wants measured growth in 2018 and 2019, and more aggressive growth in 2020.
"You don't want to inch over" the line separating small businesses from their larger counterparts, the new CEO said.
"You want to blast through."