ANALYTICS GUIDE USERS; CO. PLANS TO CAPITALIZE ON FREE APP'S AUDIENCE DOWN THE ROAD
New Fitness App Brings Huge Body of Knowledge to Personal Workout
Originally published October 23, 2017 at 1:22 p.m., updated October 23, 2017 at 1:23 p.m.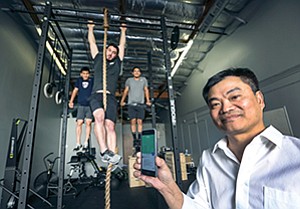 San Diego — When you get brilliant software engineers in the same room as fitness junkies, a workout app will inevitably be born.
Fitness tools pepper the app market like Crossfitters on Paleo forums, each catering to the specific needs of a niche market. Back in 2015, there were already about 60,000 fitness apps available to users, and that number has most likely climbed over the past two years, according to market research.
Even with all that competition, a new fitness app being developed in Poway has managed to attract 10,000 new users in a little over a year. Its unique features have even caught the eye of two major fitness brands —CrossFit and Reebok— which are currently in talks with the startup regarding partnerships and strategic investments.
The local startup is called FitTech Software, and it's made an app called "Athex." The app was first imagined by co-founders Khang Nguyen, Ton Nguyen, and Matthew Paiz— all millennial-aged software engineers who happen to love fitness. The trio paired up with Khang and Ton's father, Tien Nguyen, a longtime corporate tech executive who now serves as the company's CEO.
The Technological Edge
The app's competitive edge is a feature that generates workouts tailored to a person's goals and needs. Paiz, who Tien describes as a bit of a wunderkind coder, engineered the generator to match exercises with certain muscle groups and equipment.
The patent-pending generator then leverages artificial intelligence and machine learning to spit out unlimited combinations of workouts that target specific muscle groups depending on a user's goals.
Here's how it works: Let's say a person — we'll call him Roger — wants to transform his physique with a strong back and core to improve his posture. But Roger has no gym membership, no at-home fitness equipment, and no idea how to exercise. Roger can download Athex, and tell the app to create workouts for the back and core muscles. The app then generates a workout personalized for Roger, taking into account his lack of equipment. Roger can watch brief video tutorials within the app to learn the exercises, log his performance, and compete with friends for top rankings.
It's All in the Analytics
The personalized workout generator is not the only competitive component. The app also offers robust analytics based on exercise science that can tell Roger if he's overworking or underworking certain muscle groups.
This analytics feature is key, said Josh Everett, a strength and conditioning coach who's been training military and collegiate athletes for the past two decades. As a CrossFit Games competitor and coach, Everett has seen a lot of gym junkies making rookie mistakes such as ignoring entire muscle groups.
"For example, people who bench press too often and don't do enough upper back work often end up with their shoulders rolled forward, which is really bad for your body and posture," Everett said.
Everett is an advisor for FitTech, and said the app was thoughtfully designed to help novices and experts prevent these common mistakes.
"The app basically shows you a heat map of your body, identifying muscles you've paid a lot of attention to and muscles you've ignored," Everett said."This will help you reach your goals while avoiding injury."
Social Media Stars Fuel User Base
For an app like this to succeed, it's critical for FitTech to get users on board with Athex. For now, Tien said it costs FitTech between $3 and $4 to acquire a user, but he expects that to shrink to $1 in the near future.
The startup has a few arrows in its quiver, including a strong group of "influencer" athletes who are using and promoting the app. It also happens that Tien's third son, Vinh Nguyen, is a famous hip-hop dancer (he's toured with The Black Eyed Peasand The Chainsmokers). Vinh will be a promoter of the app, and has a wide network of athletically-inclined followers on social media.
Making Money With Apps
The company plans to offer the app for free and capitalize on the size of the audience down the road with advertising and product integration from sports brands. By 2018, the company also has plans to launch a feature for coaches, trainers and gyms to manage their clients, which will be a major source of revenue, Tien said.
"We'll be providing a huge base of users, and the coach can recruit their clients from our platform," Tien said.
FitTech already has a slick app with several features on the App Store, and 10,000 users on board (1,500, of which, signed up right out of the gate strictly on word-of-mouth). Tien, who bootstrapped FitTech with his own capital, said the company hopes to launch the Android version in a few months.
But the startup needs more capital to grow. Tien said they're hoping to raise $1.25 million to hire more engineers and build out the software for coaches, trainers, and gyms, and also add a nutrition feature.