Dashboard: San Diego Last in Affordability Among Similar Metros
Sunday, October 22, 2017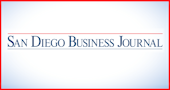 Compared to nine similar metro regions, San Diego finished last in affordability and has the third highest cost of living.
That's according to findings released Oct. 18 as part of the update to the Regional Jobs Strategy Dashboard, produced by the San Diego Regional Chamber of Commerce.
"We can't overstate how much our housing affordability crisis is holding back our economy," said Sean Karafin, the chamber's vice president of Policy and Economic Research, in a news release.
Affordability was measured by tracking cost of living versus income. San Diego ranked below San Jose, Austin, Denver, Raleigh, Boston, Seattle, San Francisco, Los Angeles and Portland.
San Diego did receive high marks for parklands, weather and upward mobility, but has serious challenges affordability challenges for residents, and for employers trying to retain their workforce, the dashboard found.
Two other findings were that San Diego has the second highest poverty rate and was fifth in the number of disconnected youth, with 43,000 young people who are not attending school or working.