Business Confidence Index Remains Moderately Positive
Sunday, October 22, 2017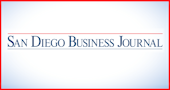 The San Diego Regional Chamber of Commerce's business outlook index has dropped since the beginning of the year, though it remains in moderately positive territory.
The index, which gauges sentiment among local businesses every month, stood at 14.7 in September, compared with 25 in January, according to data released Oct. 18.

With zero being neutral, the index runs from -100 to +100.
Some businesses cited government regulation, including minimum wage increases, as a major source of concern. The minimum wage went up to $10.50 an hour in January and will reach $15 an hour by 2022.
On the flip side, businesses registered a rosier outlook on revenue expectations, particularly in North County.

The index is based on a survey of randomly selected members of San Diego, East County, Alpine, Escondido, Lakeside, Vista, Santee, Encinitas and National City Chambers of Commerce.
Although the index has fallen since January, September's outlook rebounded slightly from August, which was 13.2, the lowest point this year.