Arcturus Therapeutics Partnering With Pharma Giant on Infectious Diseases
Thursday, October 19, 2017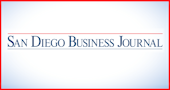 Arcturus Therapeutics Inc., a small local biotech that reversed its way into the public markets a few weeks ago, has struck a comprehensive research deal with pharmaceutical giant Johnson & Johnson.
The deal is between Arcturus and Janssen Pharmaceuticals, an arm of J&J. The two companies will work together to develop nucleic acid-based drugs to treat hepatitis B with the help of Arcturus' chemistry and delivery platform technology. The agreement also includes an option to expand into other infectious and respiratory diseases, according to Arcturus.
The pharma giant will cover all of Arcturus' costs for development and commercialization, and provide the San Diego company with R&D support. Arcturus will also receive an unspecified upfront cash payment, milestone payments, and royalties on future sales.
The deal was facilitated through Johnson and Johnson Innovation, where Arcturus, founded in 2013, was once housed at in-house incubator JLABS.
Arcturus' president and CEO Joseph Payne said the partnership was a good match of capabilities.
"Arcturus' expertise and intellectual property in the field of RNA medicines is complemented by Janssen's broad capabilities in clinical development, regulatory affairs, and marketing," Payne said in a statement.
Despite the lack of financial details about the partnership, the news had a strong effect on Arcturus' stock. After merging with a failed Israeli biotech last month to reverse its way onto the Nasdaq, the company's stock has been hovering around the $1 to $1.25 mark. After the deal was announced, the stock price jumped over 27 percent by midday Oct. 19. At time of publication, the stock was trading for $1.61 per share.