Special Guests Announced for the Veteran and Military Entrepreneur Conference & Awards
Wednesday, October 18, 2017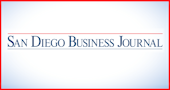 Rear Admiral Yancy B. Lindsey, Commander, Navy Region Southwest; and Rear Admiral Allie Coetzee Leslie, Deputy Administrator of the U.S. Small Business Administration will be attending the 2017 Veteran and Military Entrepreneur awards dinner. Rancho Bernardo resident Ida Tagliaferri, an original "Rosie the Riveter" during World War II, will also be in attendance.
Larry Broughton, an award-winning hotelier and entrepreneur, CEO, bestselling author and former U.S. Army Green Beret, has been announced as the keynote speaker for the San Diego 2017 Veteran and Military Entrepreneur Conference & Awards.
This new awards program and educational conference will be held at the Hyatt Regency La Jolla at Aventine on Wednesday, October 25, 2017.
Tickets are now on sale for both the conference and awards dinner. The conference is free to active duty, veterans and military spouses with military identification. Presenting sponsors are the San Diego Business Journal and The Rosie Network; awards title sponsor is Tri-City Medical Center; gold sponsors are Cox Business and Wells Fargo; conference master chief sponsor is USAA; conference captain sponsors are Bank of America and CDC.
To register online: http://www.sdbj.com/bizevents/.
For additional information, contact the events department at 858.277.6359.