CareFusion to Lay Off Up to 81 Employees in San Diego
Wednesday, October 18, 2017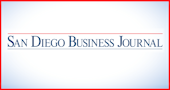 Medical device maker CareFusion will eliminate about 81 positions in San Diego as part of a strategic shift.

A company statement provided to the San Diego Business Journal confirmed the layoffs.
In 2014, New Jersey-based medical equipment supplier Becton, Dickinson and Co. bought CareFusion, then based in San Diego, for $12.2 billion, at the time the second biggest sale in San Diego life science history.
"BD is committed to the San Diego region, where we employ more than 3,000 associates ― making San Diego the largest BD employment base in the U.S. As part of our business transformation efforts to ensure that we have the right resources to meet the needs for our Medication Management Solutions business, BD recently announced several organizational changes that will better align our capabilities to our strategy," says the statement.
Becton, Dickinson and Co. did not respond to questions seeking more information about the organizational changes, what type of positions would be eliminated and whether other company layoffs occurred in San Diego in the last year.
CareFusion, which makes infusion pumps and other medical devices, will make every effort to redeploy affected workers, the statement says. When not possible, severance packages are planned.
"We don't take decisions like this lightly, but believe these actions are necessary to create a stronger business by building a highly agile team that is scalable and staffed for flexibility, service and speed to support our customers and their patients," the statement said.