Will Aztec Victories Affect Mission Valley Development?
Originally published October 12, 2017 at 2:10 p.m., updated October 12, 2017 at 2:10 p.m.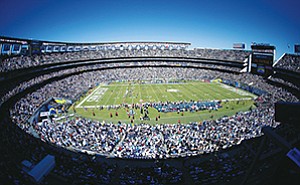 San Diego — Could the San Diego State University Aztecs' surprisingly strong start this football season — undefeated at 6-0 as of mid-October — translate into ballot box success for backers of an SDSU-centric plan to redevelop the current Mission Valley stadium site?
It wouldn't be the first time that's happened in San Diego. Next fall will make 20 years since voters passed the measure that cleared the way for development of downtown's Petco Park, which opened in 2004 as the new home of the San Diego Padres and sparked an East Village renaissance that continues to the present day.
Election Day in November 1998 arrived less than two weeks after the Padres had appeared in the World Series at Qualcomm Stadium, losing to the New York Yankees. It was also just a few months after San Diego hosted the 1998 Super Bowl at the same stadium, generating an estimated $295 million in local economic impact as the world watched the Denver Broncos beat the Green Bay Packers.
Now it looks like voters, in 2018, could decide whether college football or professional soccer becomes the next star stadium attraction at Mission Valley, after this year's departure of the San Diego Chargers for Los Angeles.
Coming soon to a grocery store near you will be canvassers for a group called Friends of SDSU, which is aiming gather enough voter signatures to place a 2018 ballot measure before voters aimed at redeveloping the Mission Valley site into a western campus of the university. It would require the university to purchase the city-owned site at market value and create a comprehensive development plan that would likely include a new or renovated stadium.
If that measure qualifies for the ballot, it could compete for voter approval with another plan put forward by a high-powered investment group called Goal San Diego (Goal SD), which has proposed a mixed-use development called SoccerCity, with various commercial and residential elements anchored by a stadium housing a future new Major League Soccer team. SoccerCity has already qualified for the ballot and is currently expected to go to voters next November.
Friends of SDSU is led by a 24-member steering committee that includes university alumni and other backers who are also prominent in local business circles. The committee includes longtime local philanthropist and real estate leader Malin Burnham, former San Diego City Manager Jack McGrory, and former SDSU President Elliot Hirshman, who is now president of Stevenson University in Maryland.
Also on the friends committee are other prominent San Diego real estate developers and investors, including Casey Brown, Dennis Cruzan and Fred Pierce. Two others — Tom Sudberry and Colton Sudberry — are, respectively, the chairman and president/CEO of Sudberry Properties, which has significant holdings in Mission Valley and elsewhere in the San Diego region.
Earlier this year, Sudberry Properties joined with H.G. Fenton Co., another prominent local developer, to form a political coalition called Public Land, Public Vote, which was joined by other local business leaders and is actively campaigning against the SoccerCity plan.
The SoccerCity investors were fast out of the gate with their proposal, announced just a few days after the Chargers said their official goodbye in January. Now the backers of that other kind of football are playing catch-up, looking to match hometown spirit for the now surging Aztecs against a passionate and large crowd of soccer fans. Next year's local elections could give a new meaning to the term "political football."