Lease Deals Bring New Incoming Tenants
Originally published October 12, 2017 at 2:12 p.m., updated October 12, 2017 at 2:12 p.m.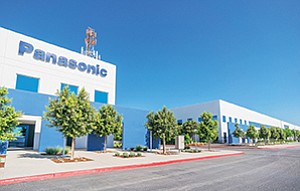 San Diego — San Diego's Murphy Development recently announced three more big lease signings at its industrial and office property known as The Campus at San Diego Business Park in Otay Mesa. The U.S. government's General Services Administration signed a 10-year lease for 40,872 square feet of office space at the 2055 Sanyo Ave. building, where fiber-optic technology provider kSARIA Corp. recently leased 59,267 square feet of office and warehouse space for three years.
Financial terms were not disclosed in a Murphy statement. At the same campus, logistics services provider Brokerage and Logistics Solutions Inc. (BLS) recently signed a five-year lesae for 36,954 square feet at 2001 Sanyo Ave. In the kSARIA and BLS deals, Murphy was represented by Bryan Teel and Ronald King of Kidder Mathews; kSARIA by Evan Knudson of CBRE Group Inc.; and BLS by CBRE's Erik Parker.
Those deals follow Murphy Development's signing earlier this year of Panasonic Corp. of America to 225,258 square feet for a five-year term at the campus. Murphy acquired much of that property from the electronics firm, and has since embarked on a $15 million renovation that includes new landscaping, outdoor amenities, lobbies and energy-efficiency upgrades.
In downtown San Diego, property owner Emmes Realty Services of California LLC recently saw two significant lease signings at its tower known as 707 Broadway. San Diego-based digital marketing firm CPC Strategy opted to expand into a third full floor, bringing its space to 27,445 square feet; and Memphis-based architecture and interior design firm HBG Design relocated its San Diego office to 6,600 square feet at the high-rise. Financial terms were not disclosed.
In Chula Vista, medical equipment distributor QB Medical Inc. signed a three-year lease for an 8,301-square-foot industrial space at 630 Bay Blvd., in a deal valued at $262,816. Charles Adolphe and Nicholas Cosenza of Lee & Associates represented the tenant, and the landlord, 630/660 Bay Blvd. LLC, was represented by Curt Perry and Arthur Bleier of Voit Real Estate Services.
Carlsbad-based Chuze Fitness, which has been in expansion mode for the past few years, recently opened a new 54,600-square-foot health club in Denver, after leasing a former Walmart Neighborhood Market space. Cushman & Wakefield's Chad Iafrate, who represented Chuze, said the fitness chain now has 19 clubs in California, Arizona and Colorado, including a total of five recently leased locations in the Denver market.