HEALTH: ALTERNATVE THERAPIES PUSHED BY PHYSICIAN GROUPS
Co. Sees New Pain Management Approach as Possible Opioid Solution
Originally published October 12, 2017 at 12:51 p.m., updated October 12, 2017 at 12:51 p.m.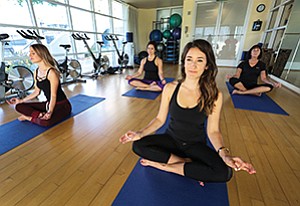 San Diego — Today's national health crisis comes in pill form — i.e. opioid use.
American Specialty Health is offering a possible solution that could reduce opioid use by relying on a combination of methods — including so-called alternative options — targeted to individuals for the treatment of pain.
Groups like the National Academy of Medicine and the American College of Physicians increasingly advocate for such alternative therapies for pain treatment like acupuncture and cognitive behavioral therapy.
Seeking to curb the opioid epidemic, 37 states' attorneys general last month sent a letter urging health insurance companies to re-examine coverage policies that may be driving patients to addictive painkillers. The letter asks that they prioritize "non-opioid pain management."
American Specialty Health got a head-start on this six years ago when it began research and development on a new program emphasizing alternative treatments. The company is well suited for the endeavor; a big chunk of its business is managing health programs that include yoga, chiropractic and acupuncture for health plans, employers and insurance carriers.
Ahead of Its Time
CEO and co-founder George DeVries, who started the company in San Diego three decades ago in his condo's second bedroom, said among many companies, American Specialty Health's offerings were considered novel or alternative two or three decades ago.
Not so much anymore. The company reported $422.1 million in revenue in 2016, meaning three-year growth of 76 percent. American Specialty Health relocated its headquarters to Indiana in 2013 but still has 812 employees in San Diego.
"We've been doing this for years, and the market woke up to this evidence-supported approach," said DeVries in an interview with the San Diego Business Journal.
DeVries believes the company is bound to reach a much bigger audience through its latest program, "EmpoweredDecisions," which launched in July and was discussed Oct. 9 at a company conference at Loews Coronado Bay Resort. Six years in the works, EmpoweredDecisions builds on the company's past efforts.
Sole Source Solution
"We wanted to integrate all of our programs together and have an umbrella over them so we could be a sole-source solution around pain management," DeVries said.
More than chiropractic, yoga and other exercise, EmpoweredDecisions links disparate parts of the medical system, from online resources like an app to physicians to ancillary providers like physical therapists. It also personalizes care. Patients receive individualized treatment plans, after consulting a personal coach and an algorithm assesses their health issues.
'A Human and Technology Side'
EmpoweredDecisions is geared toward patients with back and general pain, and opioid users.

"The bottom line is people are tired of being dumped into a website with massive amounts of information," DeVries said. "Our intent is a member can get a personalized action plan. There's a human and technology side to that.
"Saying there's one solution that's supposed to work for everyone, that just doesn't work," DeVries said.
EmpoweredDecisions is undergoing a pilot to evaluate the business potential and scientific outcomes.
The program would be offered through health plans or directly by an employer, and American Specialty Health is also eyeing a direct-to-consumer fitness variation, according to the company.
"Health plans look to us for these programs because they know that we understand how to manage and deliver them in cost-effective, clinically-effective fashion. They may have a general understanding, but their expertise is not here," said Douglas Metz, chief health services officer and executive vice president of American Specialty Health. "That's been our value proposition for 30 years."
Insurance Question
One challenge for businesses like American Specialty Health: insurance companies often don't cover alternative treatments like acupuncture, nor treatments that are still in medical trials or have yet to receive federal government approval.
It will be difficult for insurers to disregard coverage in light of a growing body of evidence, said Dr. Robert Bonakdar, the director of pain management at the Scripps Center for Integrative Medicine. He's also the past president of the Academy of Integrative Pain Management.
Bonakdar cited the American College of Physicians, which in February released new guidelines on noninvasive treatment for low back pain. The authors said there's evidence that superficial heat, massage, acupuncture and spinal manipulation work, while opioids should be treatments of last resort.
Medication Choice Is Easy
"In many cases it is much simpler to cover a medication because that is a well-known path. For things like acupuncture, biofeedback and mindfulness, there are often barriers to how they are historically viewed — many times seen as less-than evidenced based, although in most cases their long-term safety and efficacy is much better," he wrote in an email.
Bonakdar said that EmpoweredDecisions is encouraging because it combines evidenced-based approaches with access to medical providers.
Bob Twillman, executive director of the Academy of Integrative Pain Management, said change is afoot on the insurance front. As one example, he noted Oregon's state insurance program now covers acupuncture and cognitive behavioral therapy.
Topping the organization's 2017 survey of member desires was increased insurance coverage for treatments, according to Twillman.
DeVries said because research and development began on EmpoweredDecisions six years ago, it's not a reaction to the opioid crisis. But the program is arriving at an important time.
"It began with a question, what are the noninvasive, non-pharmaceutical approaches," DeVries said.