PROPERTY: PRIME COASTAL SPOT IN DEL MAR DRAWS DEVELOPERS WITH REPUTATION FOR SUCCESS
Blufftop Battleground
Originally published October 12, 2017 at 12:48 p.m., updated October 12, 2017 at 12:48 p.m.
Proposed Del Mar Resort
Developers: The Robert Green Co. and Zephyr, both of Encinitas.
Location: 16.5 bluff-top acres south of Border Avenue and west of Camino Del Mar (Coast Highway 101), overlooking Del Mar's North Beach (aka Dog Beach).
What's Planned: 290-room luxury resort hotel, 86 for-sale residential villas, restaurant, meeting space, new city park.
Development Cost: Not yet determined.
Project Status: Currently undergoing environmental reviews by the city and public discussion in a series of workshops. Will require approvals from the city and the California Coastal Commission.
Timetable: Developers do not expect construction to begin for several years. Once it starts, project would be built out in 26 to 28 months.
Sources: City of Del Mar, The Robert Green Co.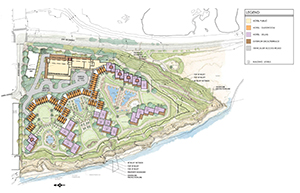 San Diego — Two Encinitas developers — The Robert Green Co. and Zephyr — contend their track records with luxury projects in high-profile places, combined with some long-term patience, should guide them through an expected thicket of obstacles to completing their proposed oceanfront resort in Del Mar.
As of Oct. 11, four public meetings had been held on the 16-acre project off Camino Del Mar, overlooking the city's popular North Beach (aka Dog Beach) where Del Mar borders Solana Beach. More meetings are planned for later this year and beyond, and both developers are taking steps to set the stage for a project that — even when it receives approvals from Del Mar city officials and the California Coastal Commission — may not open until several years from now. Del Mar's High Hurdle
Developers and other local experts note that Del Mar is traditionally among the toughest local markets for getting projects approved because of tight zoning restrictions and building standards. Additionally, the coastal commission in recent years has heightened its involvement in waterfront-adjacent projects, focused on issues including public access and affordable hotel accommodations.
According to documents filed with Del Mar, which is currently processing environmental reviews, the bluff-top oceanfront project calls for approximately 290 hotel rooms and 86 for-sale residential units. It would include a main hotel building on the northeast portion of the project site, with individual hotel guestrooms and residential units throughout the center of the site. The project also calls for some low-cost accommodations and resort employee housing.
Seven Parcels Acquired
The developers assembled the site by acquiring seven parcels during the past year from three private owners for an undisclosed price. The expected development cost and branding for the resort hotel and for-sale luxury units have not been announced. Many of the project's final details are yet to be worked out in discussions with the city, coastal commission and local residents.
The site has some trails and access paths surrounding it to the south and east, but otherwise hasn't been open to the general public or developers for nearly a century. Add to this concerns that have already surfaced among residents in Del Mar and Solana Beach — about issues including traffic congestion and protecting the waterfront — and the developers are quite aware that they've got lots of preparation ahead.
"We're very accustomed to doing projects in locations that might be considered sensitive, and we are very careful about addressing the concerns of planners and neighbors, and making the changes that need to be made," said President and CEO Robert Green, a nearly 30-year development industry veteran whose prior projects include the $120 million Pendry San Diego hotel, which opened earlier this year in downtown's Gaslamp Quarter.
"We're going to make sure that all of the concerns about traffic and views, from Del Mar and Solana Beach, are going to be addressed before this moves forward," he said.
Up for a Challenge
Green points to another completed project on his resume — the Four Seasons Resort in Jackson Hole, Wyoming, which opened in 2003 — as an example of working with a sensitive locale with potential environmental issues.
"If you want to talk about sensitive, that property was essentially right in the middle of a national park, in the middle of mountains," Green said, referring to Grand Teton National Park. He said he was able to work with park operators, conservationists and area residents to come up with a project that the various parties found acceptable.
Green said he has done similar planning with city of La Quinta, where work has begun on a $360 million project with Laguna Beach-based Montage International, which will include a Montage hotel, a Pendry hotel and for-sale luxury homes, following a reconfiguration of the golf course now underway at the site known as SilverRock.
For his part, Green's business partner at Del Mar, Zephyr co-founder and CEO Brad Termini, said he also has experience doing projects in high-value, potentially highly sensitive project zones. For instance, in planning a 168-unit, $185 million luxury condo community in Orange County's Dana Point called South Cove, across the street from Doheny State Beach, Zephyr worked with local officials to create a public park bordering the development, among other measures to assuage concerns about neighborhood impacts.
"We've done a lot of projects in these coastal areas, and we know we have to be sensitive to the residents' concerns," Termini said. Zephyr has since completed the first two of a planned five phases at Dana Point. The developer is also nearing completion on The Park, a luxury condo development in San Diego's Bankers Hill neighborhood.
From a business standpoint, local hotel industry consultants point to the Del Mar site's excellent location for a high-end resort, but also note that location brings with it extra scrutiny that will likely delay its arrival on the market.
Jerry Morrison, who heads consulting firm Morrison & Co. in Encinitas, anticipates it could take five to seven years before the planned Del Mar resort opens its doors, and it may end up being scaled down from current plans, depending on what happens in talks with the city and coastal panel.
'Five Diamond' Type Property
While branding hasn't been announced, Morrison said it would likely need to be a high-amenity, "Five Diamond" type property — the category that Montage competes in — to make the project work financially. The developers have invested considerably in the land and will likely have other carrying and planning costs going forward.
In the meantime, the current strong tourism economy — which has been quite kind to luxury hotels locally and nationally — could go through several ups and downs while the Del Mar project is being deliberated.
"It looks like a wonderful project," said Morrison, an industry veteran whose prior work includes overseeing operations at La Costa Resort in Carlsbad. "But of course when it opens it will not be in today's economy."
Robert Rauch, CEO of San Diego-based consulting and management firm RAR Hospitality Inc., said luxury hotels have generally done quite well in the post-recession era, especially between 2014 and 2016, even though growth in rates and revenue have somewhat decelerated in recent months.
"They have begun to grow more slowly as the upper-middle-market hotels have performed better than the luxury sector this past year," Rauch said.
While Del Mar is among the toughest local markets to get developments of any kind built, Rauch said Del Mar's current high-end hotels generally compete well with Orange County coastal resorts, along with high-end hotels elsewhere in San Diego County, including Fairmont Grand Del Mar, the Lodge at Torrey Pines and Park Hyatt Aviara.
The Metrics
According to the latest data from research firm STR, the luxury segment of the U.S. hotel market saw improvements from a year ago on all of the major metrics for the first eight months of 2017, including pricing and revenue. The national occupancy rate for luxury properties during that period was 74.8 percent, well above the 67.1 percent for hotels overall.
The average daily rate for a U.S. luxury hotel room was $319.34, compared with the overall average of $126.95.
Category data was not available for San Diego, but the local market has generally seen growth ahead of nationwide averages for the past six years on most metrics, due largely to a strong local and national tourism economy.
However, it's not clear what economy will be greeting the new Del Mar resort. Rauch called the proposed project site "a fantastic location" for a hotel, but he also noted that projects anywhere near a waterfront are among the most difficult to complete in the local region.
Prominent current hotels in the San Diego market that took unusually long to complete by hotel standards — five or more years — are two in La Jolla that are not actually on the water: The Lodge at Torrey Pines, and the Torrey Pines Hilton (originally built as a Sheraton).
Thanks in part to a combination of land scarcity and development challenges, Rauch noted that San Diego County has seen just two oceanfront hotels completed during the past decade, including the property now known as Cape Rey Carlsbad, which opened in 2012 as Carlsbad Hilton Oceanfront Resort & Spa, following several years of planning and discussions with the city.
The other recent significant waterfront hotel, Pier South Resort in Imperial Beach, opened in 2014 as the replacement for an older hotel known as Seacoast Inn. "And nobody opposed that project," Rauch said.