Cruzan Obtains $41.2M in Refinancing for Carlsbad Office Campus
Wednesday, October 11, 2017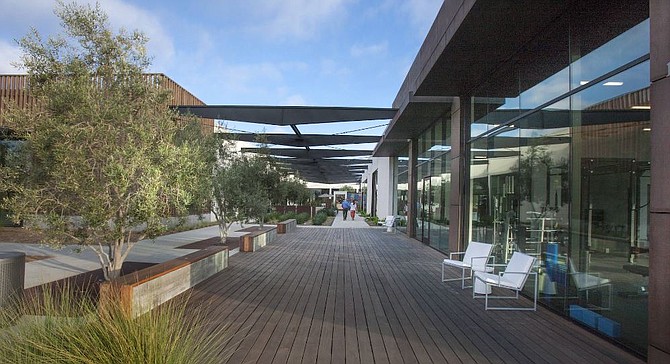 Solana Beach-based development and investment firm Cruzan has obtained $41.2 million in refinancing for its Make office campus in Carlsbad, according to CBRE Group Inc., which arranged the financing.
A statement said CBRE's Mark McGovern, Scott Peterson and Brian Cruz secured a three-year, floating-rate loan through a regional debt fund.
Located at 5600 Avenida Encinas, Make is a renovated former floral distribution warehouse that Cruzan has converted into a creative office campus with various indoor and outdoor amenities, including an amphitheater, Copa Vida cafe, fitness and locker facilities, and a bike-sharing program.
Current tenants at the 176,900-square-foot campus include regional offices of New York-based Verve Wireless Inc. and San Mateo-based camera maker GoPro Inc.
Led by founder and Principal Dennis Cruzan, the local company has owned and developed several properties, in submarkets including Del Mar Heights and downtown San Diego.
Last month, Cruzan and its investment partner, insurance company Cigna, sold the DiamondView office tower in East Village to San Francisco-based DivcoWest for $207 million. Cruzan and Cigna acquired the tower for $121 million in 2012.