NuVasive Sues Former Executive for Breach of Contract
Originally published October 10, 2017 at 5:30 p.m., updated October 11, 2017 at 5:26 p.m.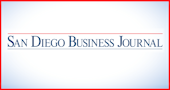 Spinal surgery and medical device company NuVasive has filed a breach-of-contract lawsuit against former President, COO and Vice Chairman Patrick Miles, who resigned from the company and took a position as Alphatec Spine's executive chairman.
The lawsuit, filed Oct. 10, alleges that Miles dissuaded NuVasive from acquiring competitor Alphatec, schemed to secure a massive equity stake in Alphatec, then recruited NuVasive's employees and plans to use NuVasive's business strategies to revitalize the company. In an Oct. 11 news release, Miles called the complaint fictional and said it's a reaction to to key NuVasive executives leaving.
The news release from Carlsbad-based Alphatec goes on to say that a poor company culture led three NuVasive C-Suite officers to resign since July 2017, and that the legal action is "an attempt to inflict maximum damage to the public reputations of both Mr. Miles and Alphatec."
In addition to breach of contract, the lawsuit includes claims of breach of fiduciary duty. NuVasive, based in San Diego, is seeking that Miles pay back his salary and equity, as well as damages to be determined at trial.
Among the allegation is that while NuVasive was exploring buying Alphatec in January 2016, Miles advised NuVasive that pursuing the deal was "a waste of time," and that Alphatec had an "aged, undifferentiated portfolio."
In March 2017, Miles purchased $500,000 in Alphatec stock in a private placement, which was never disclosed to NuVasive and concealed from the company, the complaint claims. The lawsuit goes on to say that while still an employee and a member of the NuVasive board, Miles negotiated an offer from Alphatec to serve as its executive chairman, and as part of the offer was given more than $3 million in stock, and he agreed to purchase additional shares.
Miles, according to the news release, intends to file a timely response to the complaint.
"I did not leave NuVasive to damage the company; in fact, I remain a significant shareholder," Miles said. "I chose to pursue a new opportunity at Alphatec because I want to align my talents and influence with a Company that is focused on serving spine surgeons and their patients.
"The allegations made by NuVasive against me are clearly false, and typical of a management team reacting to mass departures of key, spine-experienced executives."
Alphatec Holdings (Nasdaq:ATEC) reported a loss of $26.29 million in its most recent earnings report. Its revenues have fallen from $154.6 million in 2014 to $120.2 million in 2016. It has a market cap of about $40.3 million.
NuVasive (Nasdaq: NUVA) for the second quarter reported revenue of $260.6 million, an increase of 10.3 percent. Its market cap is about $2.6 billion.