New S.D. Private Equity Firm Aims to Fund Startups Serving Cannabis Industry
Monday, October 9, 2017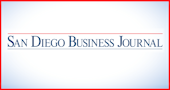 A new private equity firm has set up shop in San Diego to fund startups that are serving the cannabis industry.
The company, called Floris Capital Management LLC, was founded by Skip Motsenbocker and Will Senn, the founder of San Diego dispensary Urbn Leaf.
The new fund is investing in six areas within the cannabis industry: cultivation, manufacturing, branding, retailing, real estate, and other ancillary businesses.
Motsenbocker, Floris Capital's president, said he thought it was smart to invest in several areas within cannabis, as the ancillary space alone has become "overcrowded."
"Our multi-sector approach represents both a better diversification strategy and anticipated return on investment," Motsenbocker said.
So far this year, 29 states have legalized cannabis for medical use, and eight states (including California) have legalized recreational use.
Floris Capital aims to help fuel the burgeoning industry with infusions of cash that will range from $1 million to $5 million. Motsenbocker said most of the companies Floris Capital will invest in will fall into two categories: startups less than three years old or companies that have recently landed regulatory approval to operate.