San Diegans Named to Governor's Committee on Precision Medicine
Sunday, October 8, 2017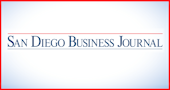 Two San Diegans have been tapped for the newly established Governor's Advisory Committee on Precision Medicine, which looks to draw upon advanced computing and technology to better understand, treat and prevent disease.
The 14-member board includes Jill Mesirov, PhD, associate vice chancellor of computational health sciences at UC San Diego School of Medicine, and Hakan Sakul, PhD, vice president of diagnostics at Pfizer.
Precision medicine aims to use data-driven tools and analysis to develop new diagnostics, therapies and insights.
The committee will advise the Governor's Office on emerging precision medicine policy issues, such as data sharing and privacy across technology platforms; precision medicine approaches to care; patient and provider engagement and education; and economic impact and sustainability of precision medicine-based treatments.
In addition, the committee will provide recommendations to the public and private sectors on integrating precision medicine into health care.