U.S. Treasury Awards Microlender Accion a Grant of Nearly $1M
Thursday, October 5, 2017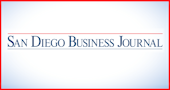 Locally based microlender Accion has been awarded a grant of nearly $1 million from the U.S. Treasury Department.
The San Diego-based organization, which offers business loans from $300 to $75,000 to entrepreneurs, said Oct. 4 it had been awarded $916,905 from the Treasury's Community Development Financial Institutions Fund, which supports the efforts of CDFIs to increase access to affordable financial products and services.
The San Diego-based Accion chapter, which covers Imperial, Riverside, San Bernardino, and San Diego counties, has won the grant eight times since 1998. In total, the organization has won nearly $6 million in federal funding.
The funds, the organization said in an Oct. 4 statement, will be used for loan capital. Accion was the only microlender in these counties to win the federal funding, according to the organization.
Two other members of Accion U.S. Network, the lending network to which the organization serving Southern California belongs, also won grants from the CDFI Fund. The fund this year provided more than $171 million to 265 organizations nationwide, including credit unions, depository institutions, loan funds and venture capital funds.
In its 22-year history Accion has provided nearly 4,000 loans to Southern California entrepreneurs totaling more than $30 million.