Sempra Revises Financing Structure of Oncor Deal
Thursday, October 5, 2017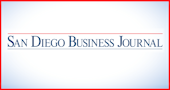 Sempra Energy has revised the financing structure of its $9.45 billion deal to obtain ownership interest in Texas energy giant Oncor Electric, a move the San Diego company believes will help it win regulatory approval.

The price tag of the acquisition will stay the same. But Sempra announced it would acquire 100 percent of Energy Future Holdings (EFH), a bankrupt utility that owns 80 percent of Oncor, with no third-party equity investors or EFH debt.

Sempra Energy's original proposal was to initially acquire 60 percent of EFH, with the goal of acquiring 100 percent over time.
In a news release, the company said the revised financing structure was the result of listening to stakeholders.
"Our application responds to their feedback and details our financing plan and regulatory commitments, as well as our approach to resolving the long-running EFH bankruptcy proceeding. Our goal is to keep Oncor strong, independent and well-capitalized for the benefit of Texas customers. Our revised financing structure also will provide long-term value to our shareholders," Debra L. Reed, chairman, president and CEO of Sempra Energy, said in the news release.
The news comes as Sempra and EFH file for regulatory approval with the Public Utility Commission of Texas.
The commission slapped down two previous attempts to buy Oncor, operator of the largest electric transmission and distribution system in Texas. To succeed where others failed, Sempra has also pledged to fulfill a number of conditions, including that Oncor retain an independent board.