FROM VINEYARDS TO URBAN WINERIES, LOCAL PRODUCERS CULTIVATE GOOD REPUTATION
S.D. Wine Sector Is Its Own Blend of Businesses
Originally published October 5, 2017 at 3:09 p.m., updated October 5, 2017 at 3:09 p.m.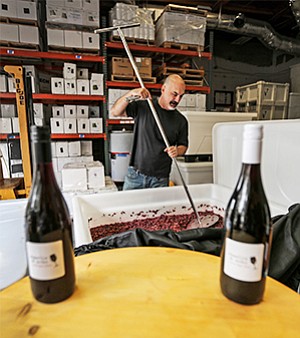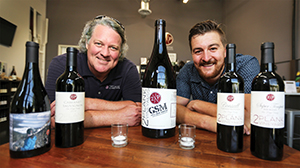 San Diego — Bring up California wine, and few think first of San Diego.
Well, some Southern Californians may. But the association is likely attributable to geographic confusion: Temecula, the wine region in southwestern Riverside County, is often mistakenly believed to be in San Diego County.
"We'll know we've made it when people stop saying, 'oh, yeah, I've had local wine' — from Temecula," said Linda McWilliams, co-owner of and winemaker at San Pasqual Winery, laughing. "We love Temecula … but we have our own identity."
So while Napa Valley continues riding high from the Judgement of Paris — the 1976 blind tasting in which California-grown cabernet sauvignon and a chardonnay beat out French equivalents — San Diego winemakers are busily building viticulture-based businesses in a craft beer-obsessed county.
Agricultural Footprint
Total vineyard acreage in the San Diego region a decade ago was 328 acres, according to the San Diego Farm Bureau's yearly crop report. That hadn't changed much since earlier in the decade: in 2003, 304 acres were planted with grapes intended for wine.
But since then, the number of acres devoted to wine grapes has grown 200 percent, totaling 930 acres in 2016. Still, that acreage remains a tiny portion of the land devoted to agriculture in San Diego County, which topped one-quarter million acres in 2016.
However, the value of the grapes being grown is rising along with the acreage increase. Between 2011 and 2012, the value of wine grapes grown in San Diego rose from $904,000 to $5.5 million, a more than fivefold increase. Value, which has been in the multimillion dollar range each year since then, peaked at $6.6 million in 2014.
There are now more than 115 wineries in the county, according to the San Diego County Vintners Association (SDCVA), which McWilliams heads as president. When she first visited with its members, the association was comprised of a "core group of eight to 10" wineries.
Total wineries countywide is now only about 30 fewer than the number of local craft breweries — and making wine takes significantly more time and expense than brewing beer. The wineries cover all corners of the county, from Campo Creek Vineyards in East County, just minutes from the U.S.-Mexico border, to Beach House Winery in Fallbrook, which abuts Camp Pendleton.
Nationwide there are about 10,000 wineries in operation. While there are wineries in all 50 states, California accounts for about 85 percent of total U.S. output. Economic impact of the industry was estimated at $84.5 billion by the National Association of American Wineries, also called WineAmerica, which recently studied the industry's national economic impact.
Reborn From Tragedy
The story of the modern-day San Diego wine industry (as opposed to the region's original wine industry — think Franciscan friars planting vines decades before California was considered for statehood) begins in the aftermath of environmental disaster.
Wildfires that roared through the county in 2003 and in 2007 charred more than half a million acres of land. Following the fires, some in the county's $1.75 billion agriculture industry — often forgotten amid its high-profile defense and biotech sectors — took the opportunity to reconsider the types of crops they grew.
Some decided to replant with grape vines, a less water-intensive plant than avocados and citrus that can also function as a kind of natural firebreak.
And, as vineyard acreage grew, the number of wineries opening in less traditional areas, known as urban wineries, also increased. Today such production spaces dot the county's coastline, where winemakers ferment, barrel, age and bottle wine they produce from grapes grown elsewhere.
That's the model at San Pasqual Winery, which McWilliams, a speech pathologist, and her husband, Mike, an industrial psychologist, bought in 2009.
Previously they had considered opening a champagne bar in the Gaslamp. They also considered running a wine bar.
Urban Wineries
During their research, up popped "urban winery for sale," and we said, "what's that?" McWilliams said.
Now the company, which was in Pacific Beach when they bought it, produces wine — including passionfruit wine, for which it is perhaps best known — in an industrial area of La Mesa. It also has a tasting room in downtown La Mesa, which it opened in December 2009. Success there prompted the McWilliams' to open another location, this one in Seaport Village in downtown San Diego.

Linda McWilliams said the increase in grapes grown in San Diego County has allowed San Pasqual to produce more local wine each year, a goal of hers.
Eric Van Drunen, owner and winemaker at urban winery Charlie & Echo in Miramar, also has a penchant for local grapes.
Van Drunen and his wife, Clara, have been in the business since 2007, when they established Vinavanti Urban Winery in San Marcos. They recently renamed the business, which was most recently in Hillcrest, using the military phonetic alphabet and their initials in a nod to the nearby air base and shifted their focus to creating more sparkling wines.
The new location is in a Miramar business park on Miralani Drive that also houses breweries and tasting rooms for mead, a honey-based brew, and sake, Japanese rice wine.
Since 2015 everything the winery makes is using grapes grown in San Diego County.
"I just find it more interesting," Eric van Drunen said. "There are other wineries that will bring grapes out of Napa and Washington. …To me, there's enough winemakers in those areas."
Wine Club
Adam Carruth, another local winemaker, takes the opposite tack.
"I try to bring what's known and common — a cabernet (sauvignon) or zinfandel or malbec or whatever — and do the best I can, take care of it and get it to the bottle in the best form I possibly can with the grapes I get," he said.
Carruth Cellars, his winery, has grown its wine club to about 2,000 members. Carruth said the winery will sell nearly 10,000 cases of wine this year, or more than $2 million in sales.
In addition to its winery in Solana Beach's Cedros Design District, Carruth has a tasting room in Carlsbad Village and a new wine garden in Little Italy.
McWilliams says she sees this diversity of winemaking philosophies as a strength for the region — as long as the results are quality.
One sip of a subpar San Diego wine could give a visitor or resident a negative impression of the industry as a whole.
That's Carruth's take, too: "The more good wine, the better," he said. "I want all these urban wineries to do well."
Van Drunen is head of San Diego Urban Wineries, a coalition of 13 urban winemakers to which Charlie & Echo, Carruth Cellars and San Pasqual Winery belong.
The industry has grown alongside the region's explosive craft beer businesses, albeit at a slower rate.
McWilliams remembers when the San Diego Brewers Guild asked the Vintners Association for advice as to how to bring together business owners. Now the winemakers look to the brewers for business tips, she said.
Carruth went from homebrewer to winemaker in a few short years thanks to a stint living in Sonoma County.
"My passion was (in) making something," Carruth said. "Making beer was fine, but I moved to Sonoma for three years, got into viticulture and started making wine and never made beer again. My interest completely switched over."
Learning Opportunities
Still, when it comes to business inspiration, he looks to a San Diego institution: Pizza Port.
Carruth, a San Diego native, began brewing beer while in college and continued once he graduated. Before he made the transition from hops to grapes, Carruth worked for a time under Gina Marsaglia, who with her brother, Vince, owns the popular San Diego chain of brewpubs.
Carruth said watching the family-owned business support the local craft beer industry by training people who later left and started their own successful breweries gave him a glimpse of what the local winemaking community could do.
The Vintners Association recently partnered with Cuyamaca College in El Cajon to offer interested students hands-on experience in winemaking through its Viticulture Technician Apprenticeship Program. That is part of a broader effort to establish more of a support system for the industry in San Diego County, McWilliams said.
Offering Several Services
Another winery, North County's 2Plank, is an unusual amalgamation of a number of winery business models. The company has its own vineyard and an urban winery in Vista, where it makes wines with its own grapes and those grown in other areas, too.
In addition, 2Plank provides winery services for others winemakers, ranging from varietal consulting and pest control to pruning and harvesting.
David Bridgeman and Jason Wimp, a doctor and technology executive, respectively, founded the vineyard. Winemaker Mike Szymczak joined the company in 2015.
Wimp, like other winery owners interviewed for this article, said he knows and is comfortable with the fact that producing wine isn't a get-rich-quick scheme. It might not even be a get-rich-at all scheme. But the romance inherent in working with the soil on a project that, at its heart, is mainly in Mother Nature's hands, has proven a powerful pull for some business owners.
"We are really excited and proud of what's going on in San Diego County with wine," he said. "Over the last five to 10 years we've had a lot of people come in who are very serious about making good wines and bringing it to the masses in an urban setting, so we're seeing wineries in downtown, in Ocean Beach, in Solana Beach, in Carlsbad … all up and down the coast and in nontraditional areas where we're able to provide a good quality product and a unique experience to wine lovers or novices or aficionados."
The next step is getting consumers equally enamored.
Demand for locally made wine won't increase until people are made aware of what is being produced by San Diego vintners, Wimp said.
"This is something we as an industry have to invest in and be patient about, and we have the good fortune of already having patience because of the product we make, so if we're going to take this long to make the product we understand it's going to take a little time for the consuming public to come around and say 'hey, wait a minute, wow — this is good, " he said. "So we're here for the long haul — and so are the grapes."