Acadia Pharmaceuticals Working to Expand Use of its Lead Drug
Thursday, October 5, 2017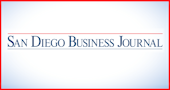 Local drugmaker Acadia Pharmaceuticals is going back to the labs this month to expand the use of its lead product Nuplazid, which currently fights psychotic episodes.
Acadia made headlines last May when the company first earned the greenlight from federal regulators to sell the antipsychotic drug. The medication, potentially worth billions in sales, quells the hallucinations and delusions experienced by Parkinson's disease patients.
Now, Acadia hopes the drug will treat dementia-related psychosis that occurs in a variety of diseases, including Alzheimers and Lewy Body Dementia, among other indications.
The San Diego company is already entering the final stage of human trials for these indications, with a Phase 3 study beginning this month. If the drug performs well and is ultimately approved by the U.S. Food and Drug Administration (FDA), it could mean a significant boost to Acadia's revenue.
The company, whose primary revenue driver is Nuplazid, already brought in $45.8 million in revenue during the first half of 2017. About $15 million of that came during the first quarter, and $30.5 million in the second.
Acadia also received a special status from the FDA called "breakthrough therapy designation," which means regulators will expedite review of the drug to speed its entry to the market.
The company's stock (Nasdaq: ACAD) closed at $38.30 per share Oct. 5, although its climbing in after-hours trading. Acadia has a market cap of $4.7 billion.