WeWork Ratchets up Coworking Spaces Race in S.D.
Wednesday, October 4, 2017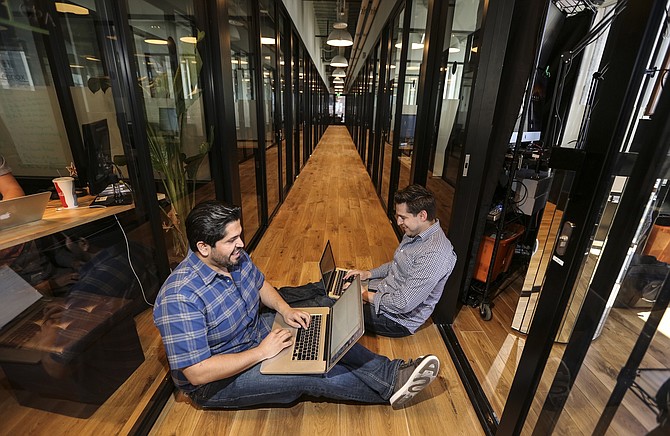 The competition among local coworking spaces just kicked up a notch.
Coworking giant WeWork, which just opened a large space in San Diego late last year, has set up an elaborate marketing campaign just outside the doors of a locally-owned coworking space in Little Italy.
The booth is set up on B Street next to a collection of food trucks, where WeWork has rolled out rugs, living room furniture, games, banners, food, and drinks. There were 20 to 30 WeWork employees at the booth Oct. 4.
That campaign happens to be right in front of Downtown Works, one of San Diego's larger coworking facilities. Wolf Bielas, the co-founder of Downtown Works, said the coworking giant has been trying to poach his tenants for weeks.
"They've been calling and emailing all of our members offering them huge discounts, and saying they'll help them get out of their contracts with us," Bielas said.
In fact, WeWork sent one of those offers directly to Bielas' email.
"We think they toured our space and wrote down the names of the businesses that had branding on their walls," Bielas said.
WeWork has not yet responded to the Business Journal's requests for an interview.
Bielas' investment firm, WL Investments, is on the ground floor of Dowtown Works. Bielas said WeWork probably didn't know he owned the place.
"The name WL Investments is only (available) in my directory in the building," Bielas wrote in an email. "We don't advertise."
The Business Journal received a copy of the WeWork's email offer. The company is handing out an entire year of space rent-free, as long as the new tenants sign a two year contract.
"We'd like to offer you 12 months of workspace paid by WeWork," the offer reads. "We're investing in you!"
Later, the email states, "P.S. Stuck in a current contract? No worries, we'll work with you to find a solution so that you can take advantage of this offer. It's our friendly way of welcoming you into the WeWork community."
WeWork, a company valued at $20 billion, appears to be offering this promotion at more locations throughout the country. Crain's reported Sept. 29 that the 12-month-free offer was available at some New York and Brooklyn locations as well.