Oceanside Apartments Sell for $4M
Tuesday, November 28, 2017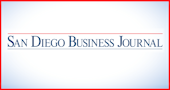 An Oceanside single-story apartment building with some commercial space on South Coast Highway has been sold for $4 million.
The complex at 2001-2003 South Coast Highway is a converted 1940s era motel. It has 13 studio apartments, seven one-bedroom apartments, a bike shop and a trading card shop.
The studio apartments range in size from approximately 300 square feet to 450 square feet. The one-bedroom apartment is between 400 and 600 square feet. The card shop is about 375 square feet with one bathroom. The bike shop with a bathroom is about 1,600 square feet.
The seller was The Sebastiano Italia Jr. Separate Property Trust. The buyer was Cazador S Coast Highway, LLC.
Tom Seymour, CCIM of Seymour Realty Advisors represented the buyer and seller.