Qualcomm Backs Startup Developing Battery-Free Bluetooth Beacons
Monday, November 27, 2017
The busy investment arm of Qualcomm Inc. has spied another startup it hopes will go big.
Qualcomm Ventures, along with M Ventures, the venture capital arm of the German pharmaceutical company Merck, recently participated in a financing round backing Wiliot, a semiconductor startup headed by former Intel engineer Tal Tamir.
Tamir previously founded Wilocity Ltd., a developer of wireless chipsets. Qualcomm acquired that company in 2014.
Now it has invested in Wiliot, which is developing battery-free Bluetooth beacons that the company says will be powered by energy harvested from radio waves. The tags, the size of a sticker, would cost between 50 cents and 90 cents, and be sold as early as 2019, the company said.
"We think it's going to have some really profound implications in terms of the internet of things, the ability to have your phone talk to intelligent packaging, intelligent products ... our beacons will be an order of magnitude cheaper and more compact and easy to attach to assets," said Steve Statler, Wiliot's senior vice president of marketing and business development. That's compared to the battery-powered beacons in use today, which are larger and more costly, he said.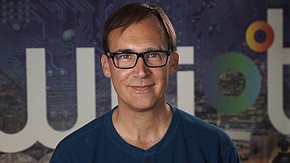 Wiliot's research and development takes place in Israel, while its business development and marketing efforts are based out of San Diego.
"San Diego is unparalleled in terms of the Bluetooth beacon work that is being done there and the talent that goes with it," Statler said. "San Diego's beacon talent and relative proximity to the Bay Area makes it a great place to have our field HQ."
Its San Diego-based workforce, currently two people, is likely to grow in the wake of the company's latest funding round, announced Nov. 2.
While terms weren't disclosed, the company said it has raised $19 million since its launch 10 months ago and of that, $14 million was invested by Grove Ventures, Norwest Venture Partners, and 83North Venture Capital at time Wiliot launched - an unusual show of support for such a new venture.
The funding is going toward hiring and to fund Wiliot's research and development.
"It essentially extends our runway into when we expect to have product in market," Statler said.