AT&T Supports Veterans and Their Families With Grant
Originally published November 24, 2017 at midnight, updated November 24, 2017 at midnight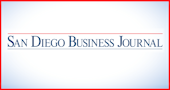 San Diego — In honor of Veterans Day and as part of AT&Ts Thank Our Heroes campaign, AT&T teamed up with nonprofit zero8hundred to recognize the serving active military families in the San Diego region with a contribution of $25,000. Zero8hundred is a cross-sector collaborative that proactively links transitioning military families to a broad range of resources and opportunities in the community, helping them successfully transition to civilian life. AT&T's contribution supports zero8hundred's military transition program and brings AT&T Digital You safety and security training to San Diego area veterans and their spouses.
This is part of a $500,000 total contribution AT&T is making to local organizations across the country who serve veterans and active duty military personnel.
Ignacio De La Torre, regional vice president, AT&T said the company has a "long history supporting our military and first responders and this contribution is one small way we can express our thanks."
The check presentation took place recently at an AT&T's Lunch & Learn workshop on online safety. Led by John Osborne, AT&T's director of external affairs, the workshop provided attendees tips and information about protecting personal data and avoiding online scams and fraud.
• • •
The second annual Scripps Coastchella benefit concert netted $320,000 to help purchase lifesaving surgical equipment at Scripps Memorial Hospital Encinitas. More than 300 North County residents attended the recent event at the Belly Up Tavern in Solana Beach, which featured G. Love & Special Sauce, an alternative blues, hip-hop band, and local country band Nancarrow.
• • •
Mission Edge announced the winning social enterprise for the San Diego Accelerator and Impact Lab (SAIL) Pitch Night, which took place recently at the Irwin M. Jacobs Hall at Qualcomm Inc.. Sponsored by The San Diego Foundation, Union Bank, Qualcomm Inc. and Cox Communications, the SAIL Pitch Night highlighted the social enterprise ideas of seven nonprofit organizations, all of whom created cutting-edge, sustainable, revenue-based business models in alignment with their social missions. The Second Chance Youth Garden received the Qualcomm-sponsored audience choice award of $10,000.
Each social enterprise who presented in the Pitch Night participated in the SAIL program, a robust ten-week accelerator led by Mission Edge and Impact Without Borders. SAIL's curriculum and coaching focused on articulating, piloting, validating, planning and pitching revenue-generating business models. SAIL participants worked closely with mentors and investors, while engaging in interactive workshops and benefitting from Mission Edge's expert advisory services. Participating organizations included: Outdoor Outreach, Casa Familiar, OG Yoga, Second Chance, Outside the Lens, TERI Inc. and ElderHelp.
"The San Diego Foundation collaborates with the region's nonprofit community to pursue innovative strategies that help improve the quality of life for all San Diegans," said Kathlyn Mead, president/CEO of The San Diego Foundation. "The social enterprise ideas presented by these seven organizations show how nontraditional business models can yield dividends in community impact and nonprofit financial sustainability." Visit missionedge.org.
• • •
The Elizabeth Hospice Golf Tournament and Dinner Auction held recently at the Maderas Golf Club in Poway raised more than $130,000 to benefit The Elizabeth Hospice's Children's Bereavement Program. The program includes Camp Erin San Diego, a unique camp experience that combines traditional camp activities with grief-related exercises and emotional support; school-based grief support groups in 14 school districts along with training for school professionals; and children/caregiver grief support groups.
The Elizabeth Hospice provides the most comprehensive counseling and grief support services for all ages in the region. Services are available to the community-at-large, regardless of the type of illness or death experienced.
Jan Jones, president/CEO of The Elizabeth Hospice said the bereavement services provide children an opportunity to explore and express feelings while memorializing the person who died and is a "true gift for children who have experienced the loss of someone close to them."
Send Kudos/Giving items to
sglidden@sdbj.com.