FINANCE: REPORT FINDS VC INVESTMENT DOWN; AVERAGE WAGES FELL
San Diego County Got Big Boost in Life Science Jobs in 2016
Originally published November 24, 2017 at midnight, updated November 24, 2017 at midnight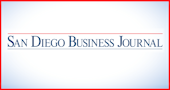 San Diego — Employment in the life sciences sector in San Diego County shot up nearly 19 percent year over year, according to a recent industry report for the state.
In 2016, San Diego's life sciences jobs came to 45,949, compared with the prior year's total of 38,694. In 2014, industry employment was 38,061. The growth in 2016 was led by a boost in employment in medical device and biopharmaceutical companies.
"Academic institutions like Scripps, UC San Diego and Sanford Burnham Prebys Medical Discovery Institute produce entrepreneurs and an amazing workforce," Sara Radcliffe said in a statement. She's the president and CEO of California Life Sciences Association, which produced the report. "The city attracts VCs and angel investors, as well as many large pharmaceutical companies, such as Johnson & Johnson and Novartis."
No. 3 in Jobs
San Diego ranked No. 3 in jobs, with Los Angeles taking second and the Bay Area capturing first. In the prior two years, San Diego ranked fourth behind Orange County.
Of the 45,949 jobs, 44 percent — the largest piece of the pie — were in the category of research and development and testing laboratories. Wages remain high compared with other industries, with San Diego's life science employees in 2016 earning an average of $115,555.
But that's down from $138,951 in 2015.
Another notable drop: In 2016, venture capital investment in San Diego was $806 million, a decrease compared with $852 million in the prior year. The projection for 2017 is $668 million, based on two quarters of data.
In addition to venture capital, San Diego research institutions received more than $800 million in National Institutes of Health grants, with UC San Diego receiving more than half.
"San Diego offers many ingredients that contribute to life sciences success, such as top basic research institutions which have produced a critical mass of experienced entrepreneurs and researchers, committed investors and seasoned leaders," the report states.
Talent Pool
These elements brought Keith Murphy to San Diego to build 3-D tissue printing company, Organovo. He's an example of the San Diego industry recycling talent, the report notes. Murphy stepped down as CEO of Organovo last year and started a new company, Viscient Biosciences, which is focused on liver disease. His research and development leadership team formerly worked for Ardea Biosciences.
All told in California, 3,249 life sciences companies had 1,274 new therapies in the development pipeline.