TECH: ENTRY LEVEL TASKS ARE BABY STEPS OF THE COMING TECHNOLOGY
Robot Developers Are Finding Work for Their Creations
Originally published November 24, 2017 at midnight, updated November 24, 2017 at midnight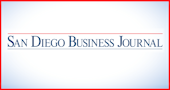 San Diego — Between the low-rise buildings in a Kearny Mesa industrial park, a four-wheeled vehicle a little bigger than a Radio Flyer wagon goes around and around on the asphalt in a preprogrammed route, capturing video of what it sees.
This is the security guard of the future, says Darin Andersen.
A robotic security guard would be especially useful during the stretch between 3 a.m. and 6 a.m., he added, when human beings tend to nod off.
Andersen is CEO of NXT Robotics, which has built 10 of the vehicles and has crafted the software that runs them. The latter has been a longtime project of Jeff Debrosse, NXT's chief technology officer.
Robot Response
Back in a command trailer, a large video screen displays feeds from the robot's four cameras. "It's all about observe and report," Andersen said.
In the event of a disturbance, the robot will be able to drive itself to the scene, shine a bright light on the intruder and give audio commands to leave. Andersen talks about the wide-eyed intruder saying to himself, "How do I get away from this thing?"
NXT's home base is in downtown San Diego. It builds its security-guard robots in Reno. The startup will not name its customers, but Andersen said a major corporation is giving the product a test-drive at a location in Oregon.
NXT is just one San Diego company that sees potential in robots.
'Clean Tech'
San Diego-based Brain Corp. has spent the last year fitting Zamboni-like floor scrubbers with batteries of sensors and central computers that let them operate autonomously.
Normally a person rides an 800-pound floor scrubbing machine from Michigan-based International Cleaning Equipment, or ICE. Brain Corp. gives them a way to operate autonomously.
The machines can easily be programmed. All a janitor has to do is drive the route through his big-box store while the system is in program mode. The system remembers the route turn for turn, having made a map in its computer brain.
If the floor scrubber encounters a person or other obstacle, it stops, emits a warning noise, and tries to find a path around the obstacle. The robotic floor scrubber is hard to ignore, since it beeps when it prepares to turn any corner.
Brain Corp. is backed by Qualcomm Ventures and SoftBank Group. The business took in $114 million in Series C funding in July. It is growing, with plans to have 80 employees by Christmas.
Up to this point, Brain Corp. has been converting floor scrubbers in its factory down the hill from Qualcomm headquarters in Mira Mesa. It is almost ready to hand over that part of the job to ICE, which will install the Brain Corp. computers and sensors as a factory option. The San Diego company will continue to provide support, as well as software.
And it will go on to look for other machines to automate, said executive Phil Duffy.
Retail Interest
WalMart is reportedly testing Brain Corp./ICE scrubbers at five locations.
It's not the first time WalMart has been in the news for deploying robots. It recently made headlines by deploying a robot with a giant bank of lights that is able to scan store shelves to see if any merchandise needs restocking. A WalMart representative said such robots are coming to the greater Los Angeles area, but not yet to San Diego.
Another businessman who sees potential in robots is "hotel guru" Robert Rauch, who co-owns and operates hotels, and consults about the lodging business.
He doesn't build robots. He puts them to work.
Hospitality Role
The Fairfield Inn & Suites in San Marcos, co-developed with Sea Breeze Properties, is the first hotel in San Diego County to operate a service robot. The rolling, pedestal-like device is from Savioke, a San Francisco Bay Area firm. A desk clerk can program it to go to a particular room and open its bin to give out whatever a guest ordered (maybe an extra towel or a can of energy drink) once the room's occupant answers the door.
Rauch said the robot can make deliveries to rooms while the hotel is minimally staffed in the middle of the night, a period when the front desk clerk shouldn't leave the lobby.
So far, he said the technology is working well. An unexpected bonus, Rauch said, is that the robot serves as security, walking the halls and training a camera on what's going on.
The robot pays for itself and guests like the novelty, Rauch said. By now he is talking to partners about buying robots for other properties.
Of course, the field of robot-building is still very young, and there are a lot of problems yet to solve. UC San Diego is one institution mulling those problems with its Contextual Robotics Institute at its Jacobs School of Engineering.
NXT's Debrosse painted a picture of competing robot companies, all focused on the same goal.
"We're all working to see who's going to get it exactly right," he said.