Integrated Chemistry Design Gets a Patent for Drawing on a Touchscreen Computer
Sunday, November 19, 2017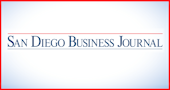 Oceanside-based Integrated Chemistry Design Inc. has received a patent for drawing on a touchscreen computer, specifically for how to make a mark in a diagram of a complicated chemical structure.
U.S. Patent No. 9,754,085 — awarded in September to M. Catherine Johnson, John D. Clark and Atsuo Kuki — covers the technology used in Chemistry Design's Chirys Draw and Asteris products. According to Chemistry Design, the products are "designed to replace cumbersome and outdated template tables with a natural circle gesture to rapidly draw chemical rings including complex fused structures."
"We mapped how chemists draw with pen and paper to touchscreen gestures that enable the chemist to focus on capturing their ideas instead of operating the software," said Johnson, the company's CEO and co-founder.
The name of the product, Chirys, is derived from the Greek word for hand. The company thought it was an appropriate name, since it can refer to the hands-on creation of chemical symbols using a touchscreen. It also refers to the "chiral" nature of many chemical compounds. In other words, some molecules containing the same atoms are similar but not identical, since some are "left handed" while others are "right handed."