Arcturus Completes Merger with Alcobra, Lists on Nasdaq
Thursday, November 16, 2017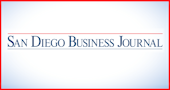 San Diego's Arcturus Therapeutics is now on the public markets following a merger with Alcobra, previously based in Israel.
The merger provided Arcturus with capital — the combined company has net cash of about $50.1 million — for use in funding is research and development of RNA medicines in areas such as liver disease and infectious diseases. It also put Arcturus on the Nasdaq, trading as of Nov. 15 under the ticker symbol "ARCT."
Arcturus essentially took the reins of the combined companies, as Alcobra moved to San Diego and Arcturus executives lead the company. Alcobra's product previously flopped in clinical trials, but the company in September had $35 million in cash on the books.
The merger was announced in September and wrapped up Nov. 15. Since announcing it, Arcturus landed partnerships with Johnson & Johnson Innovation to develop and commercialize infectious disease medicines and Synthetic Genomics to develop vaccines.