EDUCATION: INSTITUTIONS OFTEN HAVE GUIDELINES FOR TRANSFORMATIONAL EVENT
Synergy, Right Symbolism Required for Proper Naming of Schools
Originally published November 9, 2017 at midnight, updated November 10, 2017 at 6 a.m.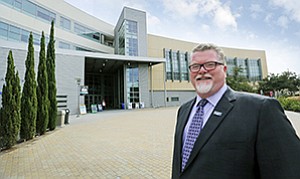 San Diego — Despite its youthful 27 years, California State University San Marcos can boast philanthropist names on five of its facilities, including the library, the field house and the home of the business school.
Notably missing is a donor's name on the business school itself. But give Kyle Button time.
"We do have relationships with people who have the ability and interest. Whether they are inclined to make the gift at this juncture is unknown. But that's an aspirational goal for us," said Button, CSUSM's associate vice president for development.
Many of the country's top business schools are named in recognition of transformational donations. Simply having a name on a business is seen as proof the university has earned the respect and financial support of the community it serves.
But it's never something to be done hastily, say fundraising officials in San Diego's higher education community.
Formal Process
Approvals generally follow a formal process, laid out in university-specific policies that set out details like minimum contributions. Discussions can take years, as both sides work to structure a gift that, in many cases, is aimed at helping students in distinct ways.
One of several schools in the area named for philanthropists is San Diego State University's Fowler College of Business Administration. Its 2016 naming followed a $25 million endowment and challenge gift by Alexis and Ron Fowler, beer distribution executive and co-owner and executive chairman of the San Diego Padres.
Another is UC San Diego's Rady School of Management. Its name recognizes a $30 million donation in 2004 by financial and insurance businessman Ernest Rady and his wife, Evelyn. The Rady Family Foundation's commitment to the school has since increased to $100 million.
National University's Sanford College of Education, so dubbed in 2015, honors contributions by philanthropist T. Denny Sanford. The South Dakota credit card businessman's largesse includes $30 million for two nationwide teacher-assistance programs led by the La Jolla-based university.
San Diego university development officials said approaches to naming negotiations can vary from campus to campus. Money may be targeted at scholarships, faculty support, technological upgrades or a mix, and there can be tighter or looser spending restrictions.
The Dollar Amount
Then there's the question of dollar amount. UC San Diego's policy and procedure manual for naming of facilities, properties and programs runs six pages. For new or existing buildings to be named, the donor's gift must constitute approximately 20 percent of the building cost, or the expense of replacing it.
To name a program after a donor, the manual says, the gift must be an endowment sufficient to substantially support and sustain the operation, with consideration given to the school's reputation, stature and budgetary resources. It should be enough also to build new programs.
"Judgment will need to be applied to these cases and may vary widely," the manual states.
Bigger schools tend to fetch bigger naming donations. In October, the business college at the University of Illinois at Urbana-Champaign was named the Gies College of Business after a $150 million gift from Chicago businessman Larry Gies and his wife, Beth.
At CSU San Marcos, Button said any business college naming gift would have to be transformational by nature, not simply a sales transaction or some quid pro quo.
"It really is someone looking forward to make a quantum change in the college through a private gift of private resources," he said.
Fowler's was a matching gift, so ultimately it may bring in $50 million, pointed out Lance Nail, SDSU's business college Thomas and Evelyn Page dean (the title of his job was bestowed after a 2016 gift). As a dollar-for-dollar pledge, Fowler's gift means the $6 million set aside for scholarships — all of it raised already — has raised $12 million for tuitions.
Nail used to work at Texas Tech as dean and professor of finance at the Rawls College of Business. An open gift there gave the dean a lot of discretionary spending power, he said. Nail likes the matching approach better.
"I would say this is not the typical way that it's done. This is a much more impactful way to name a college," he said.
Inspiring More Gifts
Even when they're not matching gifts, naming donations as generous as the Fowler gift can attract magnanimity, said Mary Ruth Carleton, SDSU's vice president of university relations and development. The prestige alone "inspires other people to also (financially) support a college," said Carleton, who is also president and chief executive of the school's philanthropic arm, the Campanile Foundation.
Chris Graham, vice chancellor of external relations for the National University System, said for university development officials like him, the key is to align the donors' objectives with their passions for giving.
It may be the donor's particular passion isn't what the university seeks at the time of contact, he said. But there may be some alignment over time.
"Really listen," he said, and the opportunity to receive a donation will present itself.