Some Amazing Attorneys Earn Place on This Awards' Roster
Originally published November 9, 2017 at midnight, updated November 10, 2017 at 6 a.m.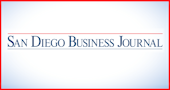 San Diego — There are some amazing attorneys who will be honored Nov. 15 at the San Diego Business Journal's Business Women of the Year Awards. You should attend the event, which will be held this Wednesday, at the Hilton San Diego Bayfront, from 11:30 a.m., to 2 p.m. First, you can meet some talented attorneys. Second, the other honorees run businesses that would be good for your business. If you meet them, they know you, and then you have a shot at their legal business. Go to the San Diego Business Journal website and sign up.
• • •
This year, the finalist list includes these attorneys: Tara Burd, T.Burd Law Group APC; Amber Eck, Haeggquist & Eck LLP; Cayce Greiner, Tyson & Mendes LLP; Alreen Haeggquist, Haeggquist & Eck LLP; Candace Moon, Dinsmore & Shohl LLP; Heather Riley, Allen Matkins; Dawn Saunders, Crosbie Gliner Schiffman Southard & Swanson LLP; and, Rachel Scatizzi Thompson, Smith & Scatizzi LLP. Really talented people, and a great event sponsored by Union Bank, Kaiser Permanente and MRC Smart Technology Solutions.
• • •
Gregory P. Daniels has joined Duckor Spradling Metzger & Wynne, Daniels will be part of the firm's longstanding health care practice. Daniels provides regulatory compliance and litigation advice to health care clients relating to fraud and abuse issues, including the Stark law and the Anti-Kickback Statute. This also includes representation relating to the False Claims Act (FCA), HIPAA/patient privacy, Medicare/Medicaid, and patient consent. Prior to joining Duckor, Daniels worked for Arch Health Medical Group, El Centro Regional Medical Center, and at Hooper, Lundy & Bookman PC. Prior to joining the private sector, he worked in the Riverside County District Attorney's Office. Daniels is a past chair of the Law and Medicine Section of the San Diego County Bar Association, and past president of the Irish American Bar Association of San Diego.
• • •
Christian Andreu-von Euw, an associate in Morrison & Foerster's local intellectual property litigation group, has been named the recipient of the 2017 Kathi Pugh Award for Pro Bono Service. Morrison & Foerster established the award in 2013 when Kathi Pugh retired after two decades of running the firm's pro bono program. It recognizes the values, enthusiasm, and compassion that Pugh brought to the pro bono program and celebrates the remarkable ways that lawyers like Andreu-von Euw continue Pugh's legacy.
Since joining the firm in 2009, Andreu-von Euw has contributed to the firm's pro bono program, dedicating an average of nearly 200 hours each year. He has represented pro bono clients in litigation across a broad range of legal disciplines including immigration, housing, criminal defense, and domestic violence. Andreu-von Euw has pursued difficult asylum cases which have led the Casa Cornelia Law Center to honor him with one of its La Mancha Awards for pro bono service in 2013. For example, Andreu-von Euw succeeded in overturning the deportation of a client from Haiti who would likely have been tortured if returned to his country.
Andreu-von Euw has also done significant work for the San Diego Public Defender's Office, a program developed by MoFo's late partner, Jim Huston. The Public Defender program gives attorneys the opportunity to try cases and gain experience in evidentiary hearings, while also helping an overtaxed public agency.
As the winner of the Kathi Pugh Award, Andreu-von Euw was able to direct $10,000 donation to a nonprofit organization that enhances access to justice. He has directed the contribution, which will be funded jointly by the firm and The Morrison & Foerster Foundation, to the Crawford High School Academy of Law Foundation.
• • •
Marc Morley has joined Mintz Levin, as a member in the San Diego office, which continues to expand its national intellectual property practice. Morley's practice includes providing strategic patent and trademark counseling, managing and prosecuting complex IP portfolios, and advising clients in licensing, due diligence and opinion work. He has experience representing a diverse list of clients ranging from early stage to established technology focused companies, research institutions, and venture capital and investment companies.
"Marc's experience working with a broad range of clients in the pharma and med device industries perfectly complements our nationally recognized life sciences, technology and health care practices," said Bob Bodian, managing member of the firm.
Morley, who previously was a partner with Foley & Lardner LLP, is active in the legal community, having served as the president of the San Diego Intellectual Property Law Association, and as the chair of the IP section of the San Diego County Bar Association. Morley was an adjunct professor at the University of San Diego School of Law.
• • •
Craig Schloss has joined Cozen O'Connor, as a member of the local office and the firm's national labor & employment department. Cozen O'Connor, a top 100 law firm, has grown dramatically through acquisition in the last two years. Earlier this year, 22 labor and employment attorneys joined Cozen from Buchanan Ingersoll & Rooney in the Pittsburgh and Charlotte offices. In 2015, Cozen added more than a dozen attorneys to the practice in its combination with Chicago-based Meckler Bulger & Tilson.
The expansion of its labor & employment practice comes amid continued self-reported strong growth for the firm, a 10 percent increase in revenue in 2016. In the last nine months, the firm has recruited 73 partners and 60 associates, including the addition earlier this month of eight partners and two associates through an acquisition of Los Angeles-based real estate and commercial litigation boutique Gilchrist & Rutter.

Randy Frisch is in-house counsel for the National University System. He can be reached at rcfrisch@msn.com.