PROPERTY: COS. USING S.D. AS R&D HUB; CAPITAL AT HISTORIC HIGHS
Life Science Leasing Surge Expected to Keep its Momentum
Originally published November 9, 2017 at midnight, updated November 10, 2017 at 6 a.m.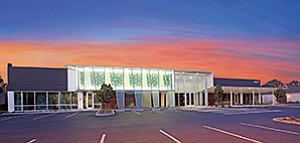 San Diego — Leasing activity among life science companies surged in the third quarter of 2017 and shows no signs of letting up, the commercial brokerage firm JLL reported.
Several San Diego life science companies expanded during the quarter, and new companies are moving in.
Among the newcomers cited by JLL were AveXis, which moved into a 16,808-square-foot building in University Towne Center, and Xerix Pharmaceuticals, which moved into a 5,923-square-foot building in Sorrento Valley.
"Companies are looking to San Diego for their R&D hubs," said Grant Schoneman, senior vice president of JLL Life Sciences Group.
The city is particularly attractive to life science companies because "there's a very strong talent pool here of scientists that are coming out of the research institutions, UCSD (University of California, San Diego) in particular," Schoneman said.
Expanding companies in the third quarter included InhibRx, which added 34,211 square foot of office space in Torrey Pines, and F1 Oncology, which expanded into 11,019 square foot of office space in Torrey Pines.
"The growth has happened both from ground up development and repositioning of buildings and I think that will continue," Schoneman said.
Kevin Tremblay, senior director and San Diego market lead at BioMed Realty, said the surge in leasing activity "can really be attributed to basic fundamentals on both the macro and micro level."
"We have an aging population, rising health care costs, and we have a demand for quality of life. This really drives the need for more efficient and effective treatments and also big capital. New companies need capital to develop these technologies. Capital remains above historic levels," Tremblay said. "This creates the demand to house these companies."
San Diego benefits from "a very large pool of seasoned biotech individuals" and a cluster of life science companies in the Torrey Pines/UTC/Sorrento Valley area, he said.
Active New Companies
"It really fosters new company creation," Tremblay said, adding that more than half of the recent leasing activity was from new companies.
His company in October bought the four-building, 105,000-square-foot Moda Sorrento life science campus on Carroll Canyon Road for $38.5 million and is developing the Center for Novel Therapeutics at the University of California, San Diego in partnership with the school.
Since 2010, the San Diego life science space has grown by more than 20 percent, to bring a total inventory of life science space to just under 15 million square feet, according to JLL.
8.3% Vacancy Rate
Demand for space by life science companies was so strong in the third quarter or 2017 that vacancy rates reached the lowest levels since 2007, ending the quarter at 8.3 percent, down from 9.9 percent in the prior quarter.
The most activity was among companies seeking 10,000 to 30,000 square feet of new space.
As the demand rose, so did rents, ending the third quarter around $4 a square foot triple net.
Triple net refers to leases in which tenants pay a portion of common building expenses, such as property taxes, property insurance and common area maintenance.
Most of the demand has been centered around Torrey Pines, Sorrento Valley, Sorrento Mesa and UTC.
"Everything kind of started in Torrey Pines and then it bled over to UTC and Sorrento Valley, then it kind of bled over to Sorrento Mesa," Schoneman said. "UTC has definitely been a leader in that growth. That submarket has grown a ton."
UTC's Amenities, Advantages
During that past seven years, UTC/Campus Point has grown by 93 percent.
"This was by far the largest submarket growth among the life science cluster markets," Schoneman said. "The growth accounts for 1.85 million square feet of new life science supply to the submarket."
Tremblay said the UTC submarket is attractive because it has easy access to freeways and amenities such as hotels, restaurants and the Westfield UTC shopping mall.
"If you can provide a facility that offers amenities and access to the hotels and restaurants and access to the freeways, it bodes well for a competitive market," Tremblay said.
The Torrey Pines submarket grew by 11 percent over the past seven years, and the Sorrento Mesa submarket grew by 12 percent, Schoneman said.
Like many other industries, life science companies tend to cluster near each other.
"A lot of the decision makers are used to being in that area," Schoneman said.
A relatively recent trend as demand for life science space rises is for industrial buildings in the area to be converted to laboratory and research and development space.
"We'll see more of that in 2018," Schoneman said.
JLL predicted the year would have a strong finish, with four transactions already recorded in October, accounting for 60,000 square feet of leasing activity.