HEALTH: MOVE EXPECTED TO GREATLY ADVANCE TIMELINES
Trials Combined for Cancer Therapy
Originally published November 2, 2017 at midnight, updated November 2, 2017 at 6 a.m.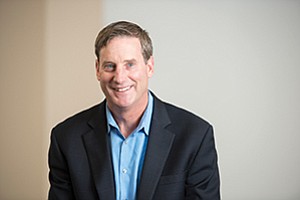 San Diego — San Diego drugmaker Tocagen accelerated its gene cancer therapy into a pivotal Phase 3 trial, which the company estimates will shave off as many as three years from the drug's development and the U.S. Food and Drug Administration regulatory process.
Tocagen has completed Phase 1 testing of Toca 511 and Toca FC, a combo therapy for the treatment of patients with recurrent high-grade glioma (HGG), a group of deadly brain tumors that include glioblastoma, the brain cancer U.S. Senator John McCain of Arizona was diagnosed as having this summer.
After consulting the FDA, Tocagen recently announced it combined Phase 2 and Phase 3 into one trial, called Toca 5. Tocagen CEO Marty Duvall said this move should expedite the drug's timeline by one to three years, though he declined to share projections of when it could hit the market.

"Getting to revenue quicker enables us to put more money into our R&D engine to be able to impact more patients longer term," Duvall said. "So I think that's another really important point of expediting the timelines."
The IPO
In April, Tocagen raised $97.8 million in an upsized initial public offering, making it the largest local IPO since Otonomy's debut in 2014. The company's Toca 511 & Toca FC directly kills cancer cells and immune-suppressive myeloid cells, activating the immune system against cancer.
Promising early results from the combination led to a breakthrough therapy designation from the FDA in February, giving the company quicker access to senior regulators for drug advancement.
Physicians have limited options for treating HGG, which 160,000 people worldwide are expected to be diagnosed with in 2017. These patients have a median survival of about seven to nine months.
Tocagen's therapy appears to offer hope. More than a quarter of patients in a high-dose cohort of Toca 511 & Toca FC are still alive more than three years after treatment. As a caveat, those results involved a 23-patient subset in a first stage trial.
Among these 23 patients, the median survival rate was 14.4 months. That's promising, and an improvement over the status quo, but it's not a cure.
Quality of Life
According to Duvall, patients who responded to treatment maintain a pretty good quality of life.
"They continue to work, they continue to provide for their families," he said.
He said in the future the therapy could be expanded to newly diagnosed patients, as opposed to only the recurrent population who didn't respond to other treatments like surgery or radiation.

"We're in some very early stage discussions about how we might go about that," Duvall said.
Under Tocagen's accelerated plan for Toca 5, an additional 193 patients with recurrent high-grade glioma will be enrolled and pooled with 187 patients already enrolled, for a total of 380.
Duvall said the company's announcement has generated quite a bit of attention among current and potential investors.
Public interest is on the rise as well, particularly with McCain's diagnosis making headlines, and before that former Vice President Joe Biden's son, Beau Biden's, death from glioblastoma.
"There's a pretty high degree of awareness. John McCain has sparked it, and there have been a number of events that contributed to that," Duvall said.