SPORTS: CONNECTING TEAM, PUBLIC AND PLACE IS GOAL
Teams Seal First Victory With the Right Names
Originally published November 2, 2017 at midnight, updated November 2, 2017 at midnight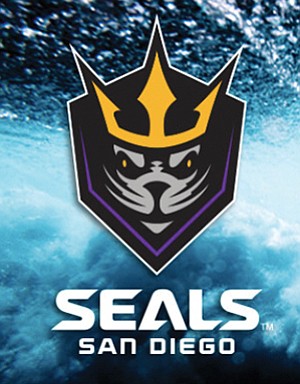 San Diego — A rose by any other name would, of course, still smell as sweet.
But sports teams don't have the luxury of taking big risks when picking a name.
Deciding what to call and how to visually represent a new team comes before drafting players or picking a coach, and the decision can have long-lasting ramifications on its success.
"You have a big decision to make when you have a brand-new franchise," said Scott Minto, who runs San Diego State University's sports MBA program. "You have to think of the market that it's in, the sport they play in, and, ultimately, what kind of brand image you want to portray."
San Diego Seals
The managers of San Diego's new National Lacrosse League team, which was awarded to the city this summer, debuted its name, the San Diego Seals, and logo in late October.
Steve Govett, team president, said the organization's intent is to build a brand that reaches beyond diehard lacrosse fans.
"We wanted an iconic logo," he said. "I get frustrated when you have to almost beg people to identify with you by putting your sports equipment in the logo, like many lacrosse teams do. When you come to our games, it's about enjoying the experience, because there aren't enough lacrosse fans, so if we're going to introduce this game beyond its current consumers, we have to tell people we're more than just a lacrosse brand."
The Seals are slated to begin their inaugural season in about one year at Valley View Casino Center in Point Loma, the arena where the San Diego Gulls, an American Hockey League team affiliated with the National Hockey League Anaheim Ducks, has played home games since 2015.
The Seals lacrosse team was the 10th to be added to the NLL, which has box lacrosse teams from the United States and Canada. Box lacrosse is an indoor version of the field sport.
Owning the Identity
"The first step in really any identity is trying to figure out what the team has that they can own that would help them be recognized, whether its regionally, nationally or even just locally," said Dan Price, president of Denver-based branding agency Adrenalin Inc. The company, founded in 1997, specializes in developing brands in the sports and lifestyle industries.
Adrenalin created the Seals' logo. Previously the company had developed the brand identity for the NLL's Colorado Mammoth as well as for other professional teams.
"The things you have to consider are how they are going to compete … not from a wins and losses perspective, but from an identity perspective," Price said.
Govett has said the name was selected by team owner Joseph Tsai. Tsai, a media-shy billionaire who prefers to go by Joe, is co-founder of China-based e-commerce platform Alibaba, one of the most valuable companies in the world.
Bloomberg reported he paid $5 million for the franchise. Tsai, whose family lives in La Jolla, played lacrosse at Yale University and retains a passion for the sport.
It was that fervor that led him to Govett, who was looking to start another team after 15 years managing the Mammoth for Kroenke Sports & Entertainment, the team's owner.
Prices Vary
Price said discussions about developing the team's brand started in June. Such projects can range widely in cost: "People have paid $1 million, and people have paid $10,000," he said.
But a popular name and logo can have an impact on a company's merchandise revenue, even during a season when wins dwindle.
"You always want to do things that will give you a fan base beyond just the people who want to come and watch your game, and the easiest way to gain that fan base is through merchandise," Price said. "The Ducks were launched with a movie … long before they were winning games, they were popular because they had a good launch platform. Not everybody is Disney, but that's what you want — something that gives you security, a fan base and revenues that aren't tied to wins and losses."
Thanks to Tsai's hands-on approach to the team, the Seals-to-be were ahead of the game when they began working with Adrenalin. They had already settled on a name; the next step was to determine how to represent it visually.
Accentuate the Positive
Of course, branding is also important for businesses in other industries: San Diego's Ionis Pharmaceuticals was until 2015 called ISIS Pharmaceuticals.
"We decided to change our company name because, when people see or hear our name, we want them to think about the lifesaving medicines we are developing," a company executive said at the time.
Still, Minto of SDSU says the potential to boost merchandise sales with the marketing of a strong brand sets the process apart from your typical business.

"If you name your product well, it can generate a lot of revenue in terms of not just merchandise sales but awareness of your team and product either nationally or internationally if you hit it out of the park," he said.
Few outside of Southern California think of Lake Elsinore when it comes to pro baseball, but its minor-league team, the Lake Elsinore Storm, has a broad fanbase thanks to its popular logo, a pair of menacing looking eyes.
The Logo
The Seals' team logo is the stylized face of a seal wearing a gold crown. Its background resembles a shield — and, vaguely, the head of a lacrosse stick. Seals colors are gold, purple, gray and black.
"We thought that name connected on a number of different levels," Govett said. "There aren't a lot of times you pick a name … with a double meaning for the market or area; sometimes it's just, 'that's a cool name.'"
The name references the sea mammal, a nod to San Diego's coastal location, and pays homage to the military, a point of pride for the region.
One advantage for the team when it comes to branding is its first-comer status to a town that hasn't had a pro lacrosse team previously, Minto said.
"They did a great job of looking at the San Diego market and picking something that was local as well as applicable for a sports team," he said. "We're a beach town, but we also have a lot of desertlike qualities: there's not a lot of wildlife here — you don't really see raccoons and squirrels and panthers and things like that running around the hills of San Diego."
Developing a brand identity with team management is a collaborative, even intimate, process, said Price of Adrenalin Inc.
Govett called him the night the team launched, raring to get to work on developing the brand. And Tsai's involvement took it to another level.
"The energy they brought to the table — I don't want to say unusual, but it was exceptional," Price said.